Wisemo may not be a household name in the UK remote support market, which is somewhat surprising considering its presence in the field since 2010. The standout feature of Wisemo's offerings is its versatile hybrid Remote Control service. A subscription-based license allows access to both myCloud, the cloud-hosted service, and on-premises support services. This flexibility empowers technicians to establish connections with hosts directly over the internet or a local area network (LAN).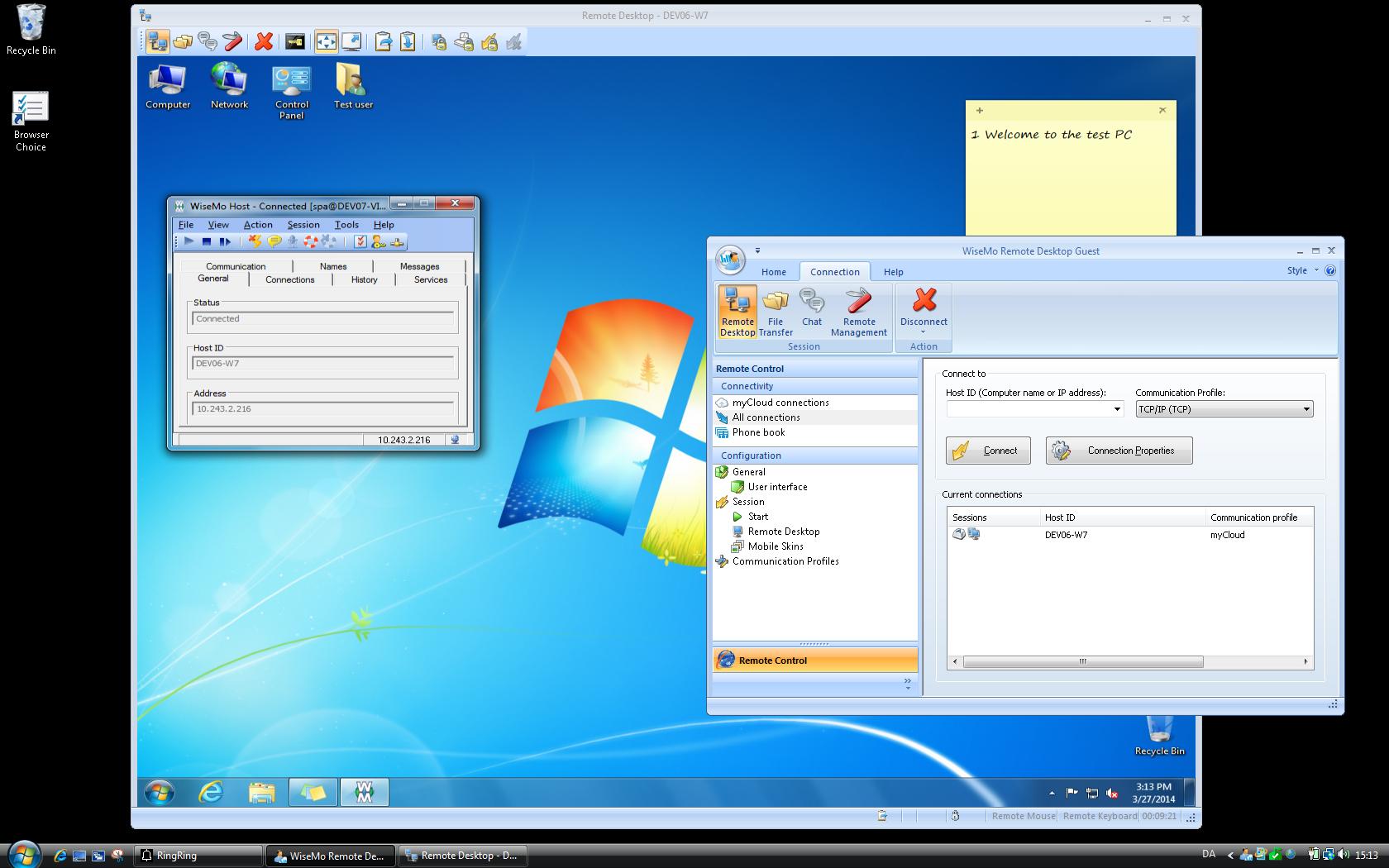 What's particularly appealing is that you can enjoy the best of both worlds. After installing the host application on your endpoints, you have the option to connect to them through the cloud via the myCloud web portal. Alternatively, you can employ the technician's guest desktop app to reach them directly over the LAN. The guest app is user-friendly and, after linking it with your myCloud account, offers both connection options.
The admin web portal is well-organized and streamlines deployment. The Manage Devices tab allows you to download the Windows host app or access various available versions. Additionally, you can conveniently send email links to selected users.
Security features are a notable strength of Wisemo's solution. A myCloud domain policy can be employed to optionally enforce two-factor authentication (2FA) for guest users. Device access controls enable precise determination of which support functions each technician can utilize. This is further simplified with security roles, where you can define whether technicians are granted full access, can view host inventories, possess remote management permissions, or are restricted to viewing rights for hosts.
Moreover, when creating new users, you have the flexibility to restrict their access to remote control services only, grant them operator privileges to deploy the host, or designate them as full administrators. Grouping users allows for swift application of consistent access rules to all members.
The web portal provides a range of options for remote sessions. You can opt for the remote desktop button or utilize the host's drop-down menu for quick access to features such as file transfer, chat, and remote management. For users of Microsoft Edge, installation of the guest desktop app is necessary, while Chrome users can benefit from a plug-in for browser-based remote control sessions.
When using the guest app logged into the myCloud account, technicians gain visibility into all registered hosts within its interface. LAN connection profiles are also conveniently included. If the host is on the same network, technicians can directly access it from the guest app using its IP address or hostname, bypassing the need to go through the web portal.
Initiating an unattended session with the guest app loads a new console equipped with an abundance of support features. The ribbon menu offers a comprehensive set of tools, including full remote control, file transfer, messaging, text and audio chat, remote application execution, Registry editing, screen blanking, and keyboard and mouse controls.
For added convenience, the optional Wisemo OnDemand service is available with an annual subscription cost of £195 per technician. It streamlines the process of establishing remote sessions with users who do not have the host application installed. It works by emailing a link for the run-time app to the user, generating a nine-digit PIN that is then provided back to the technician.
Mobile support is robust, catering to both Android and iOS devices. For Android, there are both guest and host apps available. On iOS, while the host version is still in beta testing, the guest app is functional. In our testing with an iPad, after logging into our account, we were able to view and control all available cloud-connected hosts, utilize the Quick Connect feature to access hosts on the local network, and enter an OnDemand connection ID for swift assistance.
Wisemo Remote Control is a versatile hybrid support solution, making it an ideal choice for businesses seeking diverse connection options. While on-demand session support incurs an additional expense, it proves user-friendly, packed with valuable technician features, and ensures robust access security.