TP-Link Deco XE200 – If you're in the market for the fastest router or the best mesh performance, Wi-Fi 6E is the way to go. However, it's important to note that to fully enjoy its benefits, you'll also need Wi-Fi 6E-compatible devices. While this recently approved networking standard is gaining traction in new phones and computers, it's still not widely adopted everywhere.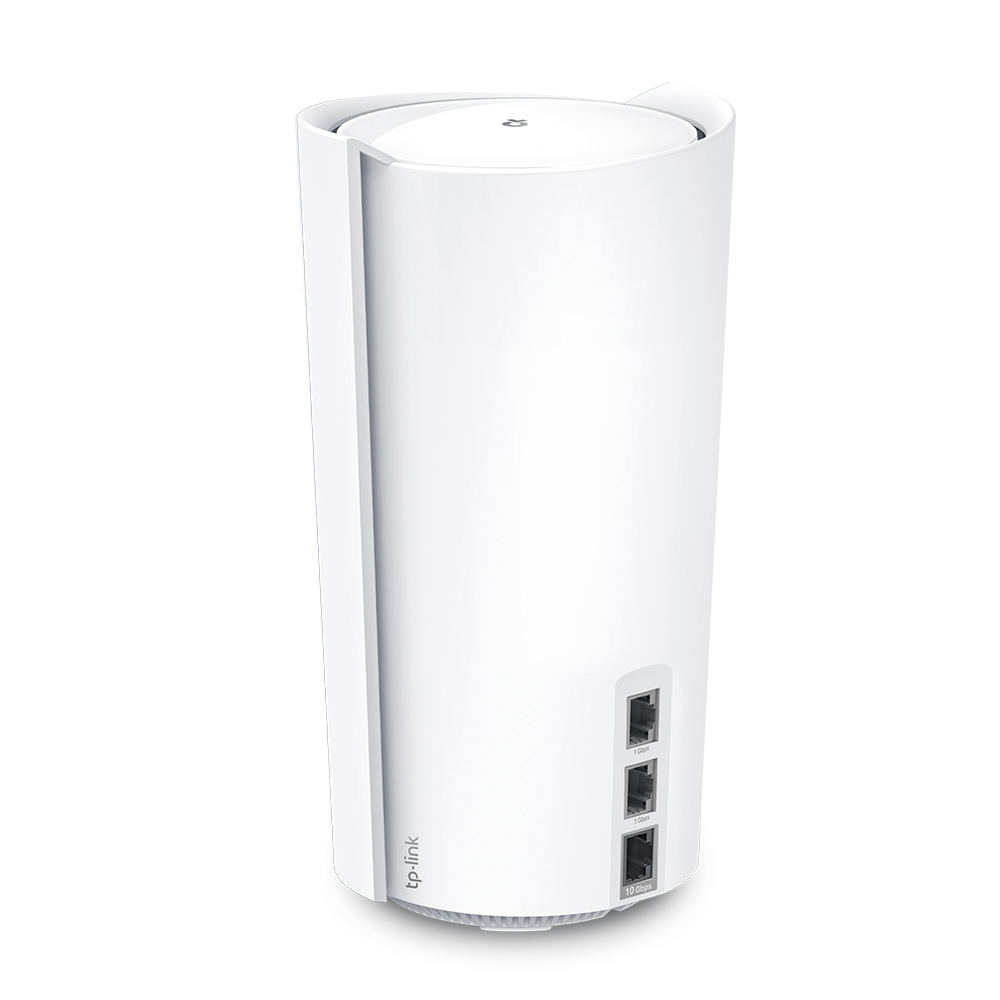 TP Link's Deco XE200 mesh system takes a different approach that aims to be more inclusive. It utilizes regular 5GHz Wi-Fi 6 for all the devices on your primary home network while employing high-bandwidth Wi-Fi 6E radios for the backhaul communications between the two mesh nodes.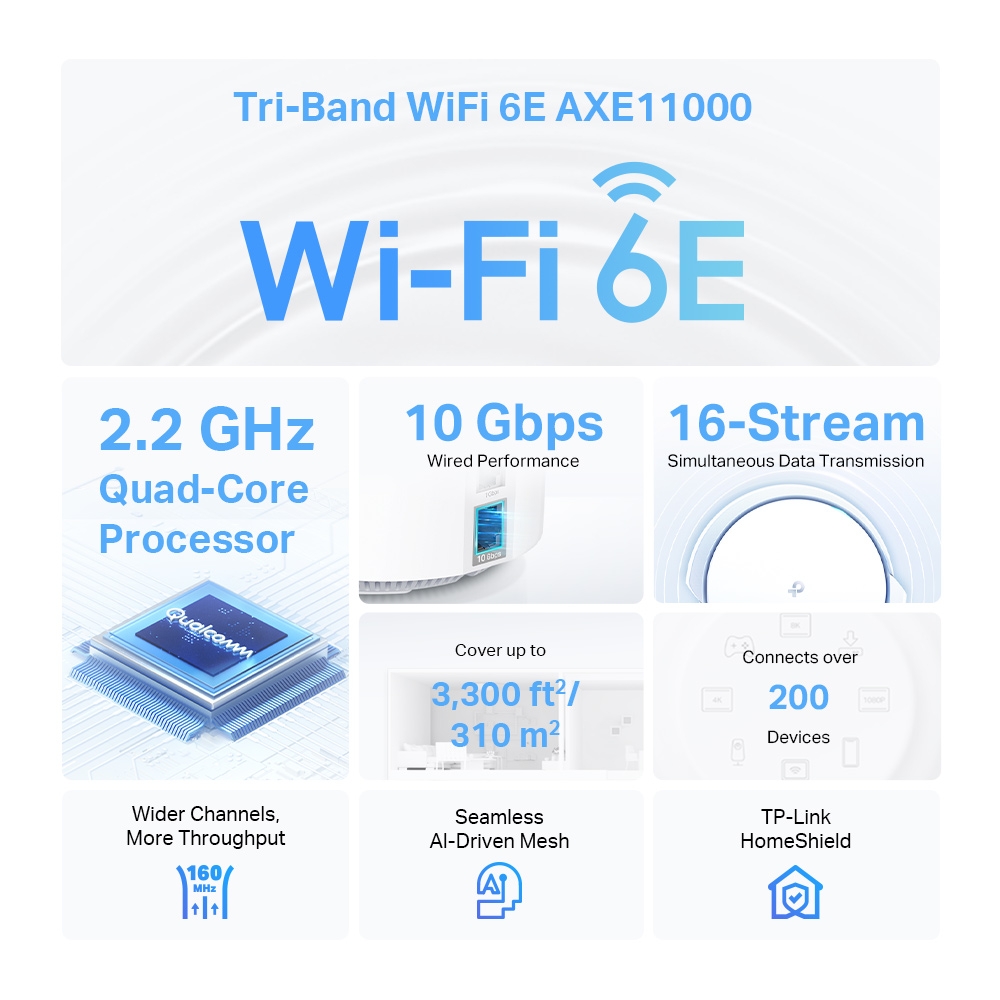 When we talk about high bandwidth, we mean it quite literally. The Deco's 6GHz radios can achieve connection speeds of up to 4.8Gbits/sec. Each station also boasts a substantial 8×8 antenna array, providing an impressive coverage area of 600 square meters. The 5GHz client network matches these speeds and uses the same MIMO (multiple-input, multiple-output) arrangement, ensuring there's an abundance of wireless capacity available.
Of course, all this advanced technology affects the size of the Deco units. They stand at 241mm in height with a maximum diameter of 130mm at the top. Despite their size, the design is unobtrusive, and the units are not cluttered with controls and sockets. At the rear, you'll find three Ethernet ports. While the top two are standard gigabit sockets, the bottom one supports 10GbE over Cat6 cabling. This versatile port can be used for either a superfast LAN connection or multi-gigabit internet. And for those of us who haven't made the leap to 10Gbits/sec, it's compatible with 2.5GbE and 5GbE speeds as well.
Equipped with top-of-the-line hardware, the Deco XE200 unquestionably delivers outstanding performance. Tests were conducted in my own home, measuring file copy speeds to and from an Asustor NAS appliance connected via 2.5GbE, and the results were truly impressive. Downloads raced through the network at nearly 100MB/sec in multiple rooms, with even the slowest performance from the Deco XE200 exceeding 75MB/sec. This speed not only outpaces your typical 5GHz Wi-Fi 6 mesh but also surpasses other rival Wi-Fi 6E systems that have been assessed. Even Netgear's formidable Orbi RBKE963, which comes at twice the price, couldn't match the overall speeds of the XE200 on the 5GHz band.
Moreover, the Deco XE200's exceptional performance wasn't confined to short-range connections. Even in the farthest corners of my home, the mesh maintained high-speed data transmission, showcasing the remarkable capabilities of its ultra-wide backhaul connection.
However, there's a minor letdown if you opt to connect your own 6E devices directly to the 6GHz network. While this is supported (simply toggle a switch in the management app to enable it), it does use some of the available bandwidth for backhaul. Connecting to the Deco XE200 over 6E was still faster than Google Nest WiFi Pro, and it closely matched the performance of the older Deco XE75. Nevertheless, performance was unquestionably better when leaving this setting in the default position.
Speaking of which, TP-Link's Deco app is generally user-friendly, providing easy access to crucial Wi-Fi and network configuration settings. It also offers robust VPN support, allowing the setup of an inbound VPN server for remote network access. If you've subscribed to third-party VPN services like Express VPN or Surfshark, you can configure the XE200 to route specific clients' outbound connections through your chosen server while directing everything else through your main ISP.
The app also grants access to TP-Link's bundled HomeShield services, which cover basic network security and parental controls. For a comprehensive suite of HomeShield features, such as malicious content filtering and configurable time limits, opting for a Pro subscription is necessary, which comes at an additional £54 per year on top of the initial £600 cost.
That said, it's important to note that this is indeed a pricey mesh system. While the cost can arguably be justified by its exceptional performance, it may not be the best choice for most users simply because extreme speeds aren't necessary for typical usage. For instance, the Mercusys Halo H80X offers everyday video streaming and Zoom call capabilities at a sixth of the price.
However, if you're genuinely seeking the pinnacle of mesh performance, the TP-Link Deco XE200 stands out as a clear front runner. It effectively leverages 6GHz networking to deliver superfast coverage throughout a typical home or office. What's even better is that you don't need to upgrade all your devices to Wi-Fi 6E to fully reap the benefits.