Tollring Analytics 365 – The shift toward remote and home-based work has created a substantial demand for communication and collaboration services, and one of the most prominent platforms in this space is Microsoft Teams, now boasting a staggering 300 million users worldwide. With so many people relying on Teams, businesses must ensure they are extracting the maximum value from their Teams subscriptions by monitoring how their staff are using it and whether it's achieving its intended goals.
Various analytics tools are available, including those integrated into Teams itself. However, one standout option is Tollring's Analytics 365, offering more profound insights into both internal and external Teams activities. While many of Teams' built-in analytics tools are scattered across its Admin Center portal and desktop app, Analytics 365 simplifies the process by natively integrating into the familiar Teams desktop app.
Tollring provides multiple subscription plans, with the entry-level license accommodating 1-500 users and costing around £28 per user annually, compared to £31 per year for monthly billing. You can also explore a one-month free trial, though it requires payment card details, and you should remember to cancel it if it doesn't meet your needs.
Deploying Analytics 365 is straightforward. After accessing it from the Microsoft marketplace, you choose a subscription plan, provide payment details, grant authorization, and download it to your Teams desktop app. Security and privacy are maintained as the app inherits permissions from your existing Microsoft 365 domains.
Getting started is easy: the app initially presents a default set of dashboards containing multiple report cards displaying data on interactions and collaboration. As you become more familiar, you can customize the console by adding additional dashboards and selecting which cards to include on each one. Tollring offers a rich selection of 37 cards, neatly categorized into Engagement, Types, and Activity groups, with a convenient search tool.
Before adding a card, you can tailor its display by providing a suitable name, choosing from various meeting and call types, and applying it to a team, group, or specific users. The reporting periods and time ranges for each card are notably more flexible than those provided by the Teams app, enabling you to choose from various options such as today, yesterday, this week, month, quarter, or custom periods.
Once configured, you can arrange the cards on the dashboard using a simple drag-and-drop interface. Super Admins have the capability to set up Analytics 365 for their organization, manage permissions for groups or individual users, and grant reporting access to people, teams, groups, and call queues.
For businesses with a remote and hybrid workforce, understanding how employees are adjusting to their new work environments is crucial. Analytics can help determine productivity, job satisfaction, and potential burnout. The Wellbeing category of cards within Analytics 365 proves invaluable in this regard.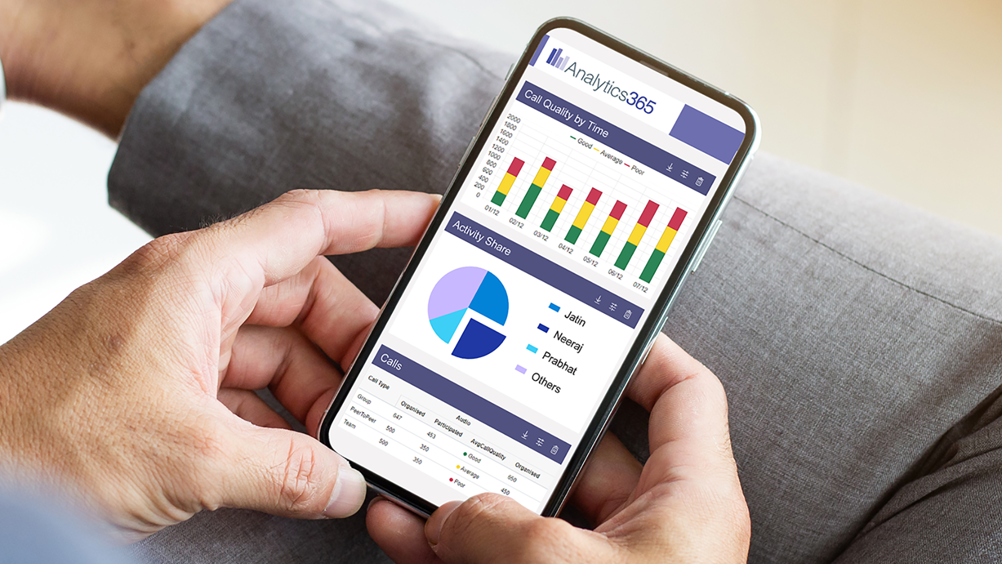 Dashboards can be created with cards displaying attendance trends, network quality, message sentiment scores, reactions, chat lengths, call queues, and more. These insights allow you to identify if staff members are spending excessive time on calls during work hours, being consistently late for meetings, facing connectivity issues, or encountering other challenges in their home office setups.
Businesses heavily invested in Microsoft Teams can use Tollring's Analytics 365 to ensure they are maximizing its value. This tool offers a wealth of valuable usage information across all Teams activities, and its seamless integration with the Teams desktop app makes it easily accessible.