Reviews
Samsung Odyssey OLED G9 G95SC
Samsung Odyssey OLED G9 G95SC – Samsung and LG are currently dominating the OLED TV market, and now this fierce competition is extending to the realm of PCs. Every OLED gaming monitor available today utilizes either a Samsung or LG panel. Thus far, our preference has leaned toward Samsung-based screens, mainly due to their superior full-screen brightness and reduced likelihood of exhibiting quirks caused by automatic brightness limiters.
| Specification | Details |
| --- | --- |
| 49-inch | 5120 x 1440 |
| 250 nits full screen SDR | 99% DCI-P3 |
| 0.03ms | 240Hz |
| 1M:1 | QD-OLED panel, adaptive sync, 1x DisplayPort 1.4, 1x HDMI 2.1, 1x mini HDMI, USB hub, 1800R curve |
This preference bodes well for the exciting new Samsung Odyssey OLED G9. If anyone can harness the full potential of a Samsung OLED panel, it's undoubtedly Samsung itself. In essence, it's similar to the numerous 34-inch 21:9 aspect ratio OLED monitors employing Samsung's panel technology, but on a grander scale. Consequently, you get the same 1,440 vertical resolution and 109 dots per inch pixel density, but the 32:9 aspect ratio extends the horizontal resolution to an impressive 5,120 pixels and the diagonal measurement to a whopping 49 inches.
All of this also applies to previous Samsung G9 monitor models, except they were all based on LCD technology, whereas this one is the real deal with OLED technology. That said, the LCD models had an even more pronounced 1000R curve, while the OLED G9 opts for a gentler 1800R bend.
Furthermore, noteworthy features include a full-screen brightness rating of 250 nits, which is in line with Samsung's OLED standards and approximately 100 nits higher than what you typically find in an LG-equipped OLED monitor. It also boasts VESA DisplayHDR True Black 400 certification, although Samsung doesn't specify the peak brightness, it's likely in the vicinity of around 1,000 nits in a small window, in line with other monitors featuring Samsung OLED panels.
Regarding the refresh rate, you're treated to a generous 240Hz, with a quoted response time of 0.03 milliseconds. While this is certainly impressive, the latter figure has arguably become somewhat inconsequential due to the exceptional speed of modern OLED panels when it comes to response times – a positive development.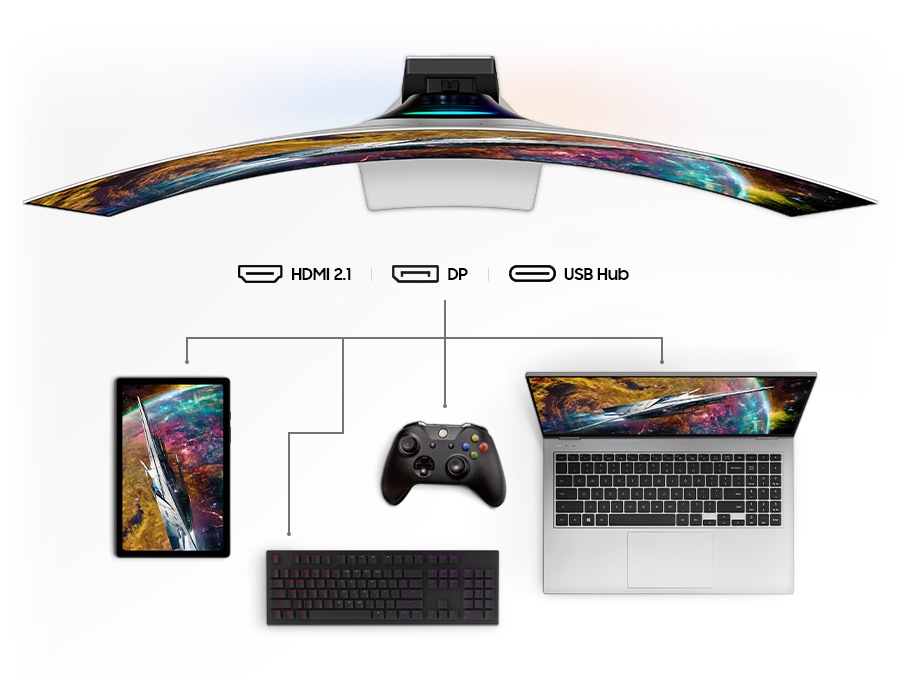 Connectivity options include DisplayPort, HDMI, and mini HDMI, along with a USB hub featuring USB-C, although it's worth noting that the USB-C port is solely for the hub and does not serve as a display interface or support power delivery.
In terms of design and engineering, this monitor is a visual masterpiece. Samsung excels in making screens look luxurious. The only design drawback is the bulky PSU (power supply unit) and its somewhat flimsy barrel connector, which feels less premium.
But what about the most critical factor – image quality? In most aspects, it closely resembles the Samsung-based 34-inch Alienware 34 AW3423DWF. Both have a glossy panel coating that accentuates the brilliance of OLED technology. The contrast is simply outstanding, and OLED's precise per-pixel lighting control makes every LCD monitor with full-array local dimming seem inadequate by comparison. Of course, the 49-inch size elevates the visual impact and immersion.
In terms of brightness, the G9 consistently delivers, which is not something you can say for OLED monitors with LG WOLED panels. LG panels tend to dim significantly when most of the screen is illuminated, but this Samsung monitor avoids the automatic brightness limiter issues. With its 240Hz refresh rate and 0.03ms response time, this monitor is exceptionally fast.
All these factors combine to make it an exceptional gaming monitor. It's important to note that the 32:9 aspect ratio may not be ideal for all games and is far from perfect for video content. For general computing, the pixel density and font rendering may leave something to be desired, and there are slight concerns about image retention and burn-in with Samsung's QD-OLED panel technology. Additionally, this monitor doesn't come cheap. Nevertheless, as a pure gaming experience, the Samsung OLED G9 stands as one of the best options available today.