Even amidst a cost of living crisis, Samsung and Nvidia seem to be oblivious. Their latest 4K Samsung Odyssey Ark monitor comes with a hefty price tag of $3,500, and when you factor in the necessary RTX 4080 or 4090 graphics card, which costs over $1,200, it's undoubtedly an expensive setup. However, for those seeking an unparalleled PC gaming experience, these two products make an excellent combination.
The Odyssey Ark boasts an array of impressive features, including the ability to transform from landscape to portrait mode, display three different sources simultaneously, and even provide TV-like smart apps. Despite these attractions, the real reason to invest in it is its exceptional performance as a gaming monitor.
This colossal 55-inch display features a 4K panel and a 1000R curvature, making it quite a sight to behold. Assembling it might require assistance due to its size, but overall, the setup process is relatively straightforward. Switching between landscape and portrait modes is effortless, although automation would have been a nice addition considering the monitor's premium price.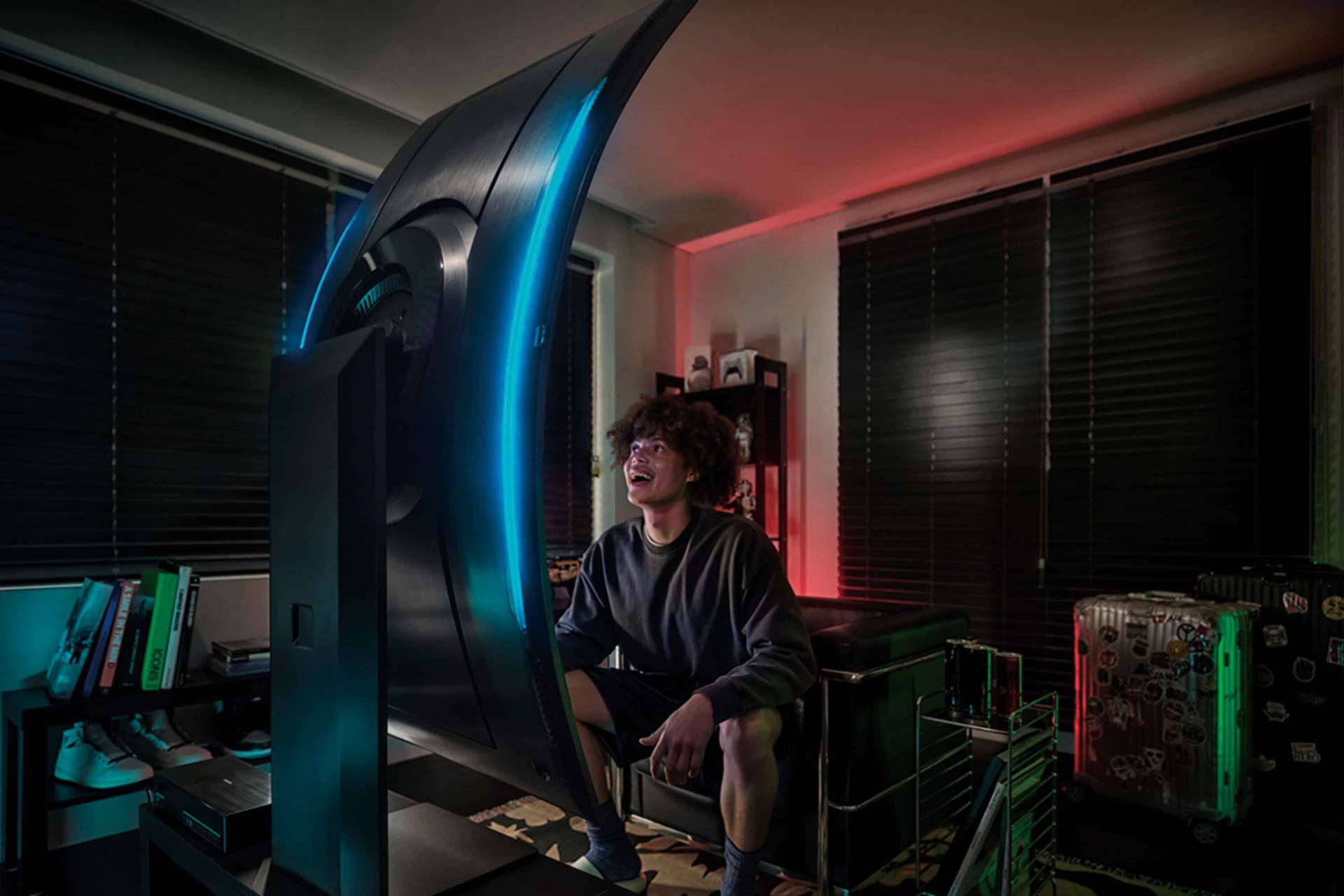 Samsung follows a similar approach to their high-end TVs by using a separate One Connect box for connectivity, consolidating power, networking, and AV functions into one cable running to the monitor. With four HDMI 2.1 inputs, it supports multiple devices, but the omission of DisplayPort for a PC monitor feels like an odd choice.
Using the monitor in widescreen mode for work or gaming is an experience that's both absurd and awe-inspiring. The lack of privacy for work-related tasks, even with Split Screen in Windows 11, is a drawback. While not a professionally calibrated monitor, it still offers respectable color accuracy for video and photo editing. However, using it for such tasks is somewhat impractical, as you'll find yourself moving your head constantly between the timeline and the preview window.
On the other hand, for gaming, the Odyssey Ark shines with its fantastic colors, contrast, and HDR performance. The 165Hz refresh rate is a welcome feature, but it's disappointing not to have official G-SYNC support at this price point, although AMD FreeSync is available.
In summary, the Samsung 4K Odyssey Ark is an extraordinary gaming monitor, but its high cost and some limitations for work-related tasks might make potential buyers consider their needs carefully before making the purchase.
Despite its impressive features, the Odyssey Ark does have some aspects that we found to be distracting or unnecessary. For example, the Cockpit mode allows you to run three sources simultaneously, but the design requires arching your neck to view content at the top, and it even compromises HDR support when using multiple sources. While Samsung's smart apps are excellent, using Xbox Game Streaming on a PC monitor might not be the most practical choice. Additionally, the large Ark Dial remote seems redundant and can make display control more confusing compared to a standard remote.
However, despite these flaws, the Samsung Odyssey Ark remains the ultimate display for truly immersive 4K gaming, owing to its enormous size and exceptional visual fidelity. Once you've experienced gaming on this monitor in landscape mode, you'll find it hard to go back to anything else.