Specifications
Processor:
24-core (8 P-cores, 16 E-cores) Intel Core i9-13950HX processor
Graphics:
8GB Nvidia GeForce RTX 4070 graphics (up to 140W)
Display:
16in non-touch, dual-mode, mini-LED display, 120Hz/240Hz, 3,840 x 2,400/1,920 x 1,200 resolution
Storage:
1TB M.2 Gen4 SSD
Wireless:
Wi-Fi 6E, Bluetooth 5.3
Ports:
Thunderbolt 4, USB-C 3.2 Gen 2, 3 x USB-A 3.2 Gen 2, HDMI 2.1, UHS-II SD card reader, 3.5mm combo jack
Operating System:
Windows 11 Home
Dimensions:
355 x 244 x 22mm (WDH)
Warranty:
1yr limited warranty
Part Code:
RZ09-0483SWJ3-R3W1
Razer's Blade laptops have consistently prioritized sleek aesthetics and premium craftsmanship over affordability. This philosophy holds true for the company's latest laptop models, which maintain Razer's signature slim design and per-key RGB keyboards, while also embracing the current industry trend of taller 16:10 displays. While the Blade 15 (as discussed in issue 334, p61) has received updates with new processors, the Blade 16 serves as Razer's new mainstream offering.
The Blade 16 is slightly taller and deeper than its predecessor, but at first glance, it's challenging to spot the differences. Notably, it retains the understated yet appealing all-black metal shell that the company is renowned for. With its discrete aesthetics, the laptop wouldn't seem out of place in an office environment, if not for the green backlit snake logo on the lid.
Compared to the Blade 15, the Blade 16 has gained half a kilogram in weight and increased its thickness by 5mm, measuring 22mm. Nonetheless, when compared to most gaming laptops, it remains impressively slim.
One drawback of Blade laptops is their higher price point, as our test machine costs £3,450. Although it features Intel's top-end Core i9-13950HX processor (used in all Blade 16 models), the graphics are limited to RTX 4070. However, you can find gaming laptops with similar specifications for around £2,000.
Razer does offer a unique advantage with its mini-LED screen. This display can operate at 240Hz at 1,920 x 1,200 resolution for optimal frame rates, or at 120Hz at 3,840 x 2,400 resolution for enhanced detail. To switch between these modes, you need to activate Razer's Synapse software, toggle a switch, and reboot the system. While not challenging, it raises questions about how frequently buyers will switch between these options once the initial excitement fades.
Thanks to its mini-LED backlighting, the Blade 16 surpasses traditional IPS panels in terms of color reproduction. It delivers an impressive 132% of the sRGB color space and 94% of the larger DCI-P3 gamut. Furthermore, it offers exceptional brightness, reaching a peak of 511cd/m2. When watching the trailer for Spider-Man: Across the Spider-Verse, the colors appeared vivid and vibrant, reminiscent of the experience of watching the original film in a cinema back in 2018.
The Blade 16 is not only a powerful gaming laptop but also a formidable device for other tasks. Equipped with the Core i9-13950HX processor, 32GB of RAM, and a 1TB PCI-E Gen4 SSD, it boasts impressive specifications. Its performance in benchmarks is exceptional, achieving a stunning single-core result of 2,065 in Geekbench 5 and an even more impressive multicore score of 20,497. File transfers are swift, with a result of 1,851MB/sec, one of the best seen. In our Handbrake video-transcoding test, it outshined the competition, completing the task in just over four minutes. In comparison, the Asus Strix G16 with the same processor was about a minute slower, highlighting the advantage of Razer's cooling and chassis design for CPU-intensive tasks.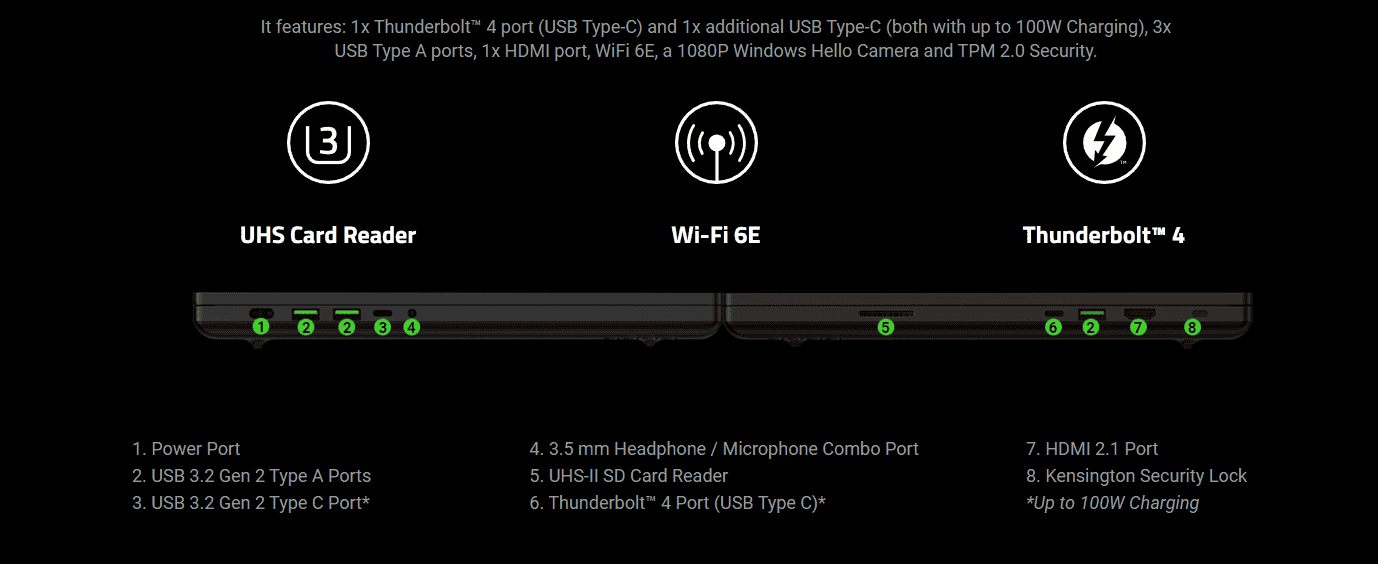 As expected from such high-performance laptops, battery life takes a backseat. However, with the screen set at 150cd/m2 and minimal activity, the Blade 16 lasted for 5 hours and 6 minutes, which is around ten minutes longer than the Blade 15. During a stress test, we identified the hottest point to be near the back bottom, measuring 47˚C. To ensure optimal performance and comfort, it is advisable to use this laptop on a table or desk when gaming.
The Razer keyboard prioritizes gamers over novelists, featuring flat keys and shallow travel. However, the layout is spacious, except for the slightly cramped up/down arrow keys. While I personally prefer the mechanical keyboard options available on certain Alienware and MSI laptops, the keyboard on the Blade 16 is satisfactory. One notable improvement is the significantly larger 7.5-inch touchpad compared to the Blade 15's 5.1-inch pad. It worked flawlessly during my tests, although individuals with larger hands might struggle to rest their palms on the deck's empty areas. In my opinion, a touchpad this size would be more effective if it incorporated haptic feedback rather than relying solely on physical clicks.
The speakers on the Razer Blade 16 are adequate. Vocals sound superb with no distortion, even at maximum volume. However, when listening to tracks with heavy drums, the lack of bass becomes noticeable. I attempted to enhance the audio experience using the included THX software, but even with various adjustments, the results were not significantly improved.
Fortunately, the preinstalled software on the Blade 16 is minimal, except for the typical bloatware that comes with Windows 11. One notable addition is Razer's Synapse software, which allows for lighting control, macro customization, and more.
Positioned above the display is a 1080p webcam with a physical privacy shutter. The camera includes IR for Windows Hello face recognition and surpasses expectations in terms of image quality. It accurately reproduces colors in most lighting conditions and provides sufficient detail for video calls.
Razer maintains its excellent port selection with the Blade 16. The right edge offers an SD card slot, a USB-A port, a USB-C port (both supporting 10Gbits/sec USB 3.2 Gen 2), an HDMI 2.1 port, and a lock slot. On the left edge, you'll find two additional USB-A ports, a Thunderbolt 4 port, a headphone jack, and Razer's proprietary power connector for the included 280W charger. The USB-C ports also support charging, although limited to 100W.