Why settle for two monitors on your desk when you can have just one? Philips presents the Philips 45B1U6900C , a curved 44.5-inch screen that can replace the need for dual- or even triple-monitor setups in a single stroke. With this expansive display, users have the freedom to arrange windows exactly as they desire, breaking free from the limitations of separate displays.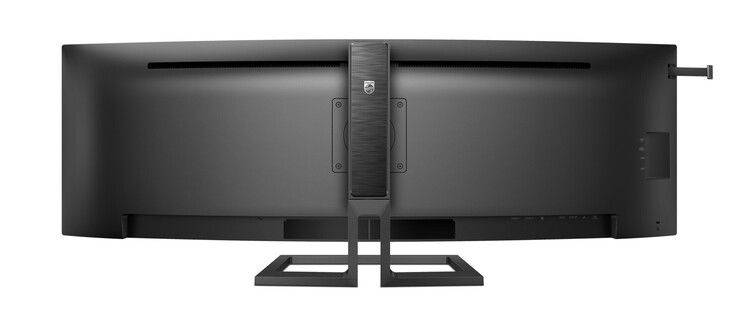 1x 3.5 mm jack
1x DisplayPort 1.4
1x Gigabit LAN
2x HDMI 2.0
1x KVM switches
4x USB 3.2 Type-A
1x USB Type-B
2x USB Type-C (DisplayPort Alt Mode/100 W Power Delivery)
Managing windows on a screen of this width can be a challenge. Philips offers its SmartControl software to assist in this regard. If you wish to set up complex window arrangements, such as a main window with two half-windows on the left and two more on the right, it is worth exploring the capabilities of the software. Alternatively, Windows' Snap tool can be a helpful companion.
Another option is to connect two computers to this screen and share its pixels between them. With a resolution of 5,120 x 1,440, this is a viable choice. Philips enhances this concept by providing picture-by-picture (PBP) and picture-in-picture (PIP) support, along with a KVM switch conveniently located next to the on-screen display (OSD) controls.
One potential drawback of a heavily curved screen is the reliance on VA panels rather than IPS. As a general rule, VA panels do not offer as vibrant whites as IPS panels. However, this is not a concern with the 45B1U6900C. In the panel's default mode, with brightness set to around 250cd/m2, the whites appear strong and vibrant. There is also an accurate sRGB mode available for those who prefer to work within that color space. Nevertheless, most users should stick to the default profile, as it provides a wider gamut coverage, encompassing 83% of the Adobe RGB gamut and 92% of DCI-P3. While it didn't quite reach the promised peak brightness of 450cd/m2 in our tests, it still achieved a robust peak brightness of 437cd/m2. It's worth noting that the panel holds DisplayHDR 400 certification, but optimal HDR content enjoyment would require even higher brightness. Additionally, the included 5W speakers produce decent volume but lack strength in both treble and bass.
As for gaming, the 75Hz refresh rate limits its potential. While games can be played with the approximate 14:4 aspect ratio, achieving playable frame rates would require a powerful graphics card. Nonetheless, Philips thoughtfully includes a gamer-friendly, spring-out headphone holder on the left-hand side of the screen.
It strategically positions two out of the four USB-A ports on the left side, along with a 3.5mm jack and a USB-C downstream port. Additionally, it's pleasing to have an Ethernet port at the rear, and with a USB-C input capable of delivering 100W to a connected laptop, this monitor serves as an excellent docking solution.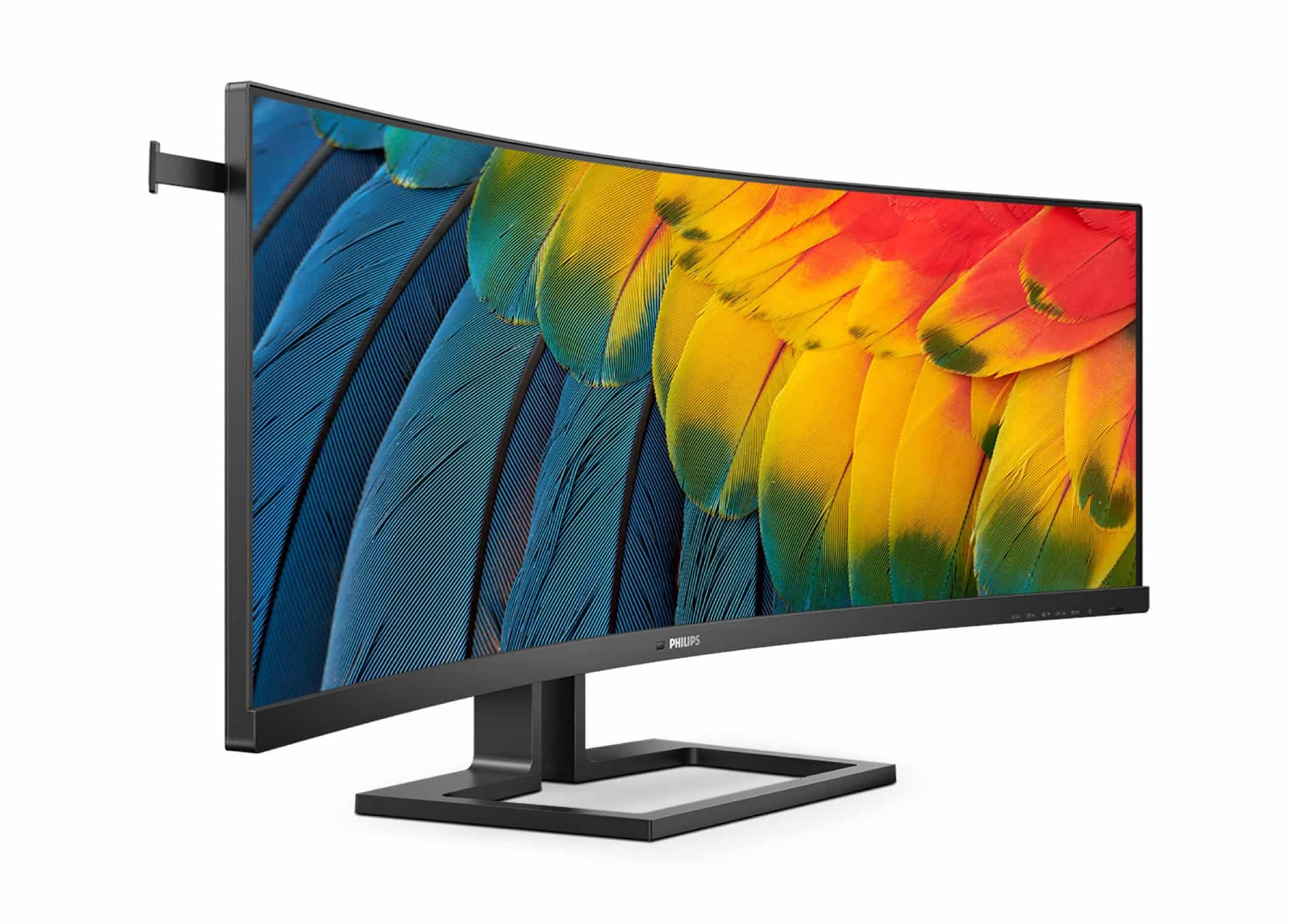 To power the expansive panel, it requires 37W at 150cd/m2 and 73W at peak brightness. To optimize power consumption based on ambient light levels, you can activate the LightSensor feature, which dims the panel accordingly. Furthermore, the PowerSensor feature detects your absence and puts the screen into standby mode.
The monitor offers Philips' usual SmartImage options, including Office, Photo, Movie, and Game modes. Personally, I found the EasyRead mode particularly useful, as it switches to a mono display that enhances focus while reading or typing. The SmartUniformity mode aims to even out brightness variation across the panel, although I didn't observe any noticeable improvement in my tests. However, if color accuracy is crucial, it's advisable to position your work in the center of the screen, as there was a 25% dimness difference in the far left corner compared to the center.
Let's discuss the stand, which is solid and substantial, necessary to support the 10kg weight of the panel. While it offers limited movement compared to smaller screens, with a 5° backward and 15° forward tilt and 45° swivel in either direction, I found the 150mm height adjustment quite useful. The assembly may wobble slightly when accessing the OSD menu, but overall, the monitor feels well-built and reliable.
Now, let's address the elephant in the room: the price. At £940, the 45B1U6900C faces a significant challenge in justifying its cost, considering the abundance of excellent curved 34in monitors available, such as HP's £530 E34m G4. Unless there is a compelling reason to invest an additional £400 for the extra screen real estate, potential buyers may opt for more cost-effective alternatives.