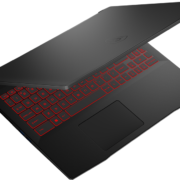 MSI Katana GF66
Pros
Competitive pricing.

Respectable CPU performance.

Solid GPU performance in older titles.

• Numerous ports, including USB-C and Ethernet.
CONS
Design doesn't stand out

Mediocre keyboard and touchpad.

Disappointing display.

USB-C port is data-only.
It's challenging to fit a capable CPU and GPU into a laptop priced at $1,000 or less, so most laptops in this category have to make compromises. The MSI Katana GF66 12UD follows this trend, but it can still be a smart choice when the price is right because of its reliable performance, ample connectivity options, reasonable cost, and other features. Without delay, let's delve into it.
The MSI Katana GF66 conforms to the expected specifications of a budget-friendly gaming laptop with high performance. To keep costs in check, it uses an Intel Core i7-12650H CPU that features six performance cores and four efficiency cores, as well as an Nvidia RTX 3050 Ti GPU.
MSI Katana GF66 Specifications
| | |
| --- | --- |
| CPU: | Intel Core i7-12650H |
| Memory: | 16GB DDR5 |
| Graphics/GPU: | Nvidia RTX 3050 Ti |
| Display: | 1,920×1,080 144Hz |
| Storage: | 512GB PCIe Gen4 M.2 solid state drive |
| Webcam: | 720p |
| Connectivity: | 1× USB-C, 3× USB-A, 1× HDMI, 1× Ethernet, 1× 3.5mm combo audio, 1× AC barrel plug |
| Networking: | Wi-Fi 6, Bluetooth 5.2 |
| Biometrics: | None |
| Battery capacity: | 53 watt-hours |
| Dimensions: | 14.13×10.20×0.98 inches |
| Weight: | 4.96 pounds |
| MSRP: | $1,049.99 |
MSI is capable of providing a gaming laptop with 16GB RAM, a 512GB SSD, and a 1080p 144Hz IPS display, all of which are considered the minimum requirements for modern gaming. These specs offer satisfactory performance, though not exceptional. The Katana GF66 12UD is priced at $1,049.99 on Amazon, but prices may vary among retailers, with some selling similar models for as low as $799.99. It is important to ensure that the latest configurations are purchased, as third-party sellers still offer outdated versions with Intel Core 10th-gen and Core 11th-gen processors.
The design of the Katana GF66 12UD is simple and understated, with the MSI logo being small enough to go unnoticed. The black-and-red color scheme, however, adds to the laptop's aggressive appearance. MSI's design is not as intricate as that of Lenovo and Dell, who offer more elaborate aesthetics.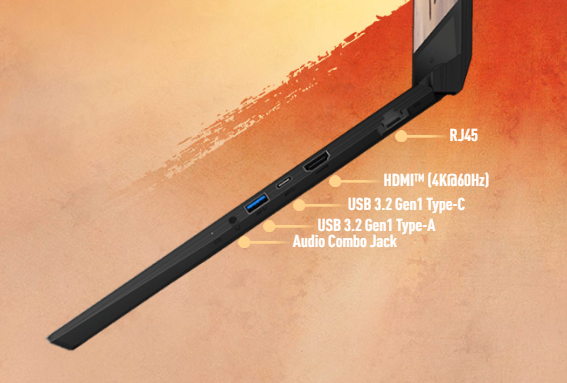 The laptop's dimensions are typical for a 15.6-inch laptop, measuring 14 inches wide and 10 inches deep, similar to the Lenovo Legion 5i, Dell G7 15, and HP Victus 15. The weight of just under 5 pounds is slightly lower than that of many alternatives in the same price range.
Build quality is functional, with basic-looking and feeling plastics, but minimal chassis and display lid flex. The Katana's quality is comparable to that of Acer Nitro and Asus TUF laptops, and is good for the price, although budget laptops from Lenovo and Dell may make better use of mixed material textures.
The keyboard of the MSI Katana is spacious and convenient to use, featuring a numpad. However, the half-size keys on the numpad may make it difficult to use for more than occasional entry into an Excel spreadsheet. While the overall size of the keyboard could be larger, it is comparable to other budget laptops, with approximately half an inch of space on either side. The key travel is long, but the feel is vague and springy, leading to noticeable flex in the keyboard. The typing experience is similar to other budget gaming laptops, such as Dell's G7, Acer's Nitro, and Asus' TUF series, but not as good as Lenovo's Legion laptops.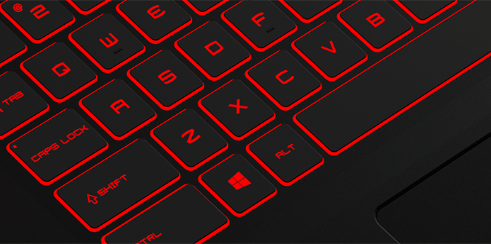 The keyboard has standard backlighting, only available in red, and three brightness levels. However, the touchpad is cramped, measuring only 4 inches wide and 2.5 inches across, making multitouch gestures difficult to execute due to the limited space available. The touchpad could be larger, utilizing the wasted space on the laptop's palmrest, but this is a common issue among budget gaming laptops, and the MSI Katana is no exception.
Every MSI Katana GF66 12UD has a 15.6-inch 1080p IPS display with a 144Hz refresh rate, which is typical for a budget laptop. However, the display's brightness is a problem, only reaching 254 nits, making it difficult to use in a brightly lit room. The contrast ratio is better, reaching a maximum ratio of 1240:1, which is comparable to many laptops sold at a variety of price points and better than some more expensive laptops, such as the Acer Predator Helios 300. Although the contrast ratio provides an acceptable sense of depth and realism, the color performance is disappointing. The display can handle only 65 percent of the sRGB color gamut and 48 percent of DCI-P3, leading to a dull, muted experience lacking the vibrance and punch gamers expect.
The motion performance of the display is decent, with quick camera pans in 3D games leading to noticeable blur but far more legible than on a laptop with a 60Hz IPS display. Fast-moving objects have only slight motion blur behind them. However, G-Sync support isn't listed in the laptop's specifications, and it wasn't available in Nvidia's settings, so gamers must either play with an uncapped framerate or use V-Sync.
The Katana from MSI comes with a basic 720p webcam that produces soft images with muted and faded colors. Inconsistencies in lighting can confuse the webcam, leading to drastic changes in exposure. While it is suitable for Zoom calls, it falls short for other purposes. On the other hand, the microphone quality is relatively better, as it captures the user's voice effectively and eliminates background noise from nearby appliances. However, the recorded audio may sound tinny, which is typical of most laptop microphones. It's worth noting that the MSI Katana lacks any biometric features, including biometric login.
PERFORMANCE
The MSI Katana GF66 12UD tested had an Intel Core 7-12650H processor, Nvidia's RTX 3050 Ti, 16GB of RAM, and a 512GB solid-state drive. A variety of Katana models are available at online retailers, but this is the most common variant of the 15-inch Katana. A less expensive configuration with Intel Arc A370M graphics exists but comes equipped with a less powerful processor and less RAM, and stock appears limited.
The laptop was tested at the Balanced power setting. MSI asked that the laptop be tested at the Extreme Performance setting, but this simply turns the fans up to their maximum setting and leaves them there, which is annoying and not how most owners would use the laptop. The Extreme Performance mode had a negligible impact on performance in most situations.
The tests start with PCMark 10, a benchmark that attempts to test a system's overall performance through a variety of scenarios that mimic real-world use, but that tends to rely on CPU performance. The MSI Katana scores a respectable 6,941, essentially tying the Ryzen 7 6800H and Ryzen 9 6900HS in the Acer Nitro 5 and Corsair Voyager and just a hair behind the Lenovo Legion 5i with Intel Core 7-12700H. This is a solid start.
It's a similar story in Cinebench R15, where the Katana maintains its third-place finish, showing that sticking with the Intel Core 7-12650H, rather than the more expensive Core i7-12700H, doesn't tank performance.
There's no big surprise in Handbrake, another CPU-heavy workload, as the Katana once again slices its way to a third-place finish. The fastest processors manage to extend their lead in this benchmark, but the Katana's performance remains admirable for a budget machine.
The focus now moves on to GPU benchmarks. The Nvidia RTX 3050 Ti in the Katana tested has a maximum graphics power of just 60 watts, which is much lower than most gaming laptops with RTX 3060 or Radeon RX 6800M hardware. Unsurprisingly, this proves a drag on performance.
The MSI Katana's 3DMark Time Spy score of 5,862 earns it a fourth-place finish, and the gap between competitors has widened. Choosing the MSI Katana with RTX 3050 Ti results in performance about 30 percent less than an RTX 3060 alternative. However, the RTX 3050 Ti opens up a big lead over the older Nvidia GTX 1650 in the HP Victus 15.
Trends continue in Shadow of the Tomb Raider, with the Katana again taking a fourth-place finish. It does manage to achieve 70 frames per second, however, providing a smooth experience in real-world gameplay. The same can't be said of the less expensive HP Victus 15, which dips well below 60 fps.