Amid a growing influx of foldable phones, an increasing number of vertical "flippable" designs are emerging. The Motorola Razr, which rivaled the Samsung Galaxy Z Flip4 last year , has now been succeeded by the Razr 40 Ultra – a more substantial and larger iteration with an expanded external display.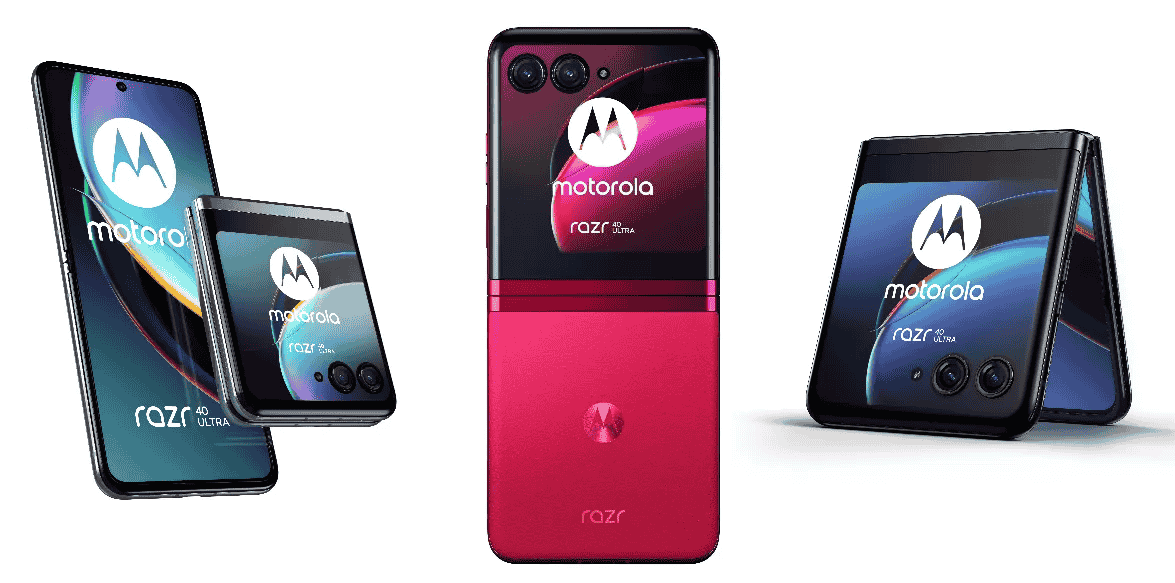 SPECIFICATIONS
| Specification | Details |
| --- | --- |
| Processor | 8-core 3.19GHz/2.75GHz/1.8GHz Qualcomm Snapdragon 8+ Gen 1 |
| RAM | 8GB |
| Graphics | Adreno 730 |
| Screen | 6.9in foldable 120Hz AMOLED, 1,080×2,640 resolution |
| Cover Screen | 3.6in AMOLED, 1,066×1,066 resolution |
| Storage | 256GB |
| Rear Cameras | 12MP + 13MP |
| Selfie Camera | 32MP |
| Connectivity | 5G, Wi-Fi 6E, Bluetooth 5.3, USB-C 2 connector |
| Battery | 3,800mAh |
| Operating System | Android 13 |
| Dimensions (Open) | 74 x 7 x 171mm (WDH) |
| Dimensions (Closed) | 74 x 15.1 x 88mm (WDH) |
| Weight | 185g |
| Warranty | 1yr |
Accompanying this is its counterpart, the Razr 40, which houses a Snapdragon 7 Gen 1 chip, a deviation from the Snapdragon 8+ Gen 1 found in the Ultra. The most noticeable contrast lies in the significantly smaller external screen of the plain Razr 40, reflected in its more affordable price tag of £800. This is notably £250 cheaper than both the Ultra and the 256GB Z Flip5, set to debut in mid-August.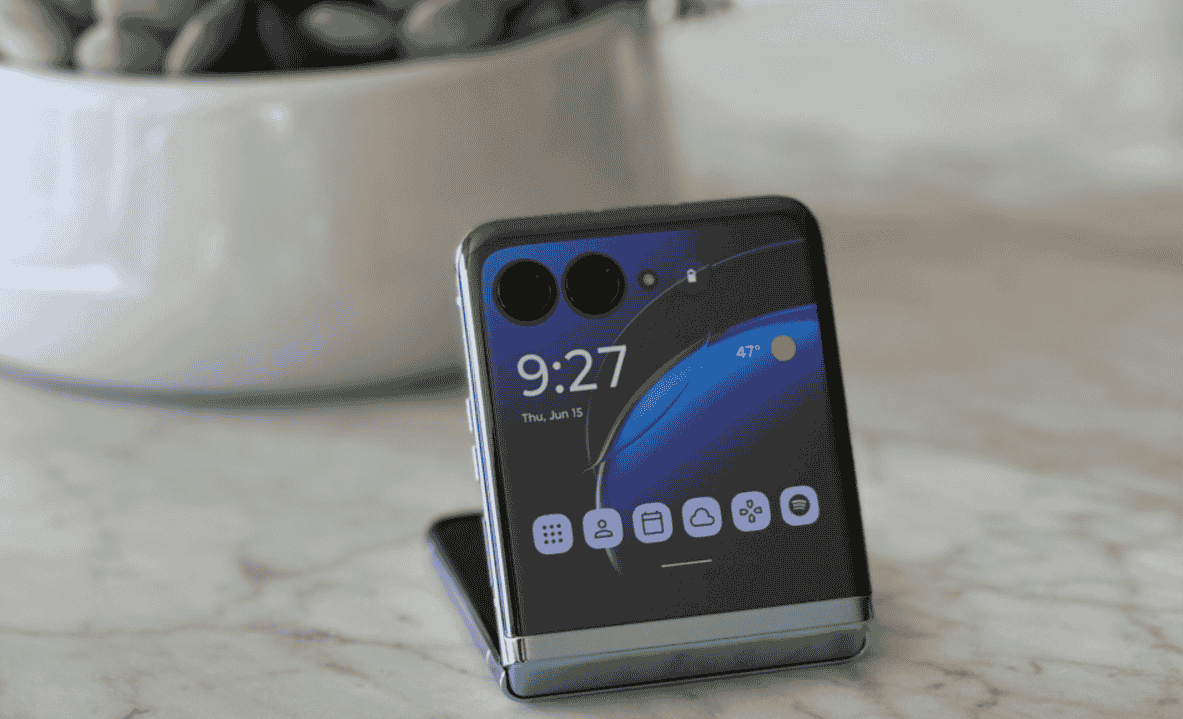 The Ultra presents itself in three tastefully named color options: "infinite black," "glacier blue," and "viva magenta." These hues exude allure whether the device is open or closed. The polished metallic frame in stylish juxtaposition with the vegan leather casing on the back is particularly eye-catching, though the long-term durability of the latter remains uncertain.
Predictably, the phone boasts excellent portability. Its hinge mechanism is satisfactorily robust, allowing the Razr 40 Ultra to achieve a seamless closure without gaps and to sit flush when opened. The faint crease along the inner display is hardly noticeable during use.
In both orientations, the Razr 40 Ultra is comfortable to handle and navigate, measuring 6.9mm in thickness when unfolded and weighing 189g. The dedicated power button on the right side conveniently doubles as a fingerprint sensor. Motorola's engineering efforts deserve commendation, as the device's design and feel stand out among foldables. However, it's important to note that the Razr 40 Ultra's IP52 rating signifies resistance to minor water splashes, but not full submersion.
When folded, the front of the Razr 40 Ultra features a nearly full square 3.6-inch OLED display. Various personalization options are available for this area, including different clocks, animated wallpapers, and more. Notably, this screen is not just for decoration; it has the same pixel density as the main display, allowing many apps and games to run on it. Due to its almost equivalent width to the internal screen, one can even use the virtual keyboard to effortlessly type out messages without opening up the phone.
It's important to note that not all apps function properly on the outer display. While Gmail and Google Maps work fine, Chrome browsing can be problematic due to the limited view. Additionally, one game I tried to play on the external display appeared distorted.
When the time comes to unfold the device, the main 6.9-inch display is equally delightful. Boasting a peak brightness of 1,084cd/m², this OLED panel offers wide viewing angles with minimal distortion and vibrant colors. The fluid 165Hz refresh rate makes it an excellent choice for video watching and gaming.
Both the internal and external displays are protected with Corning Gorilla Glass Victus, ensuring robust defense against casual scratches. Despite carrying it around in backpacks and pockets, the device remains free of marks.
Motorola's own iteration of Android 13 powers the Razr 40 Ultra, maintaining close resemblance to stock Android. For instance, Google Photos is included instead of a manufacturer-specific gallery app. Despite this fidelity to the stock experience, a few customizations have been introduced to maximize the benefits of the flip design.
An instance of this adaptation can be observed when the Razr 40 Ultra is folded into an L-shape while the camera app is in use. This action causes the controls to transition to the lower screen, transforming the top screen into a dedicated viewfinder. Moreover, when transitioning from the outer display to the inner one, applications maintain continuity. I found it particularly enjoyable to initiate Instagram on the external display, then effortlessly unfold the phone to seamlessly continue on the main screen – and vice versa. This integration truly lends a sense of naturalness and practicality to the flip format.
The camera system of the Razr 40 Ultra encompasses a dual-camera setup. This setup includes a 12-megapixel f/1.5 primary camera and a 13-megapixel ultrawide f/2.2 module, which also functions as a macro camera.
In line with the expectations for a flip phone, there's no presence of a zoom or telephoto lens – a characteristic shared by the Z Flip5. The Razr 40 Ultra captures photographs with a natural color palette. While I would have appreciated more pronounced contrast and sharper detailing from the ultrawide camera, I found its captured images visually appealing. The macro mode, in particular, captured my attention. It's important to note that slower shutter speeds necessitate shooting in well-lit conditions and with a steady hand.
The most notable drawback of the camera lies in its performance under low-light conditions. Even when utilizing the Night Vision mode, focusing proved inconsistent and often led to producing soft-looking images. In cases where focus was successfully achieved, details appeared muddled, accompanied by a lackluster color balance. In comparison, the Samsung Galaxy Z Flip4's night mode delivered brighter images with superior detail.
The flip design provides the added advantage of capturing high-quality selfies using the rear camera. This feature proves excellent for vlogging and recording self-portraits. The flip functionality also opens up unique usage scenarios. The phone can be partially folded, akin to an old-school pocket camcorder, and both displays can be activated while recording to provide a live view for subjects.
Video recording supports up to 4K at 60fps. The best outcomes are achieved when utilizing the main camera in well-illuminated settings.
On the whole, any shortcomings in photo quality are compensated for by the practicality inherent to the Razr 40 Ultra's folding design. I do find myself wishing for a manual video mode similar to that present in the Samsung lineup, allowing for complete exploitation of the device's potential.
For those with a keen interest in chips, it's well-known that Qualcomm's Snapdragon 8+ Gen 1 has been available for over a year. Interestingly, this very chipset is also present in the Samsung Galaxy Z Flip4 (with Gen 2 used in the Flip5). While it may belong to last year's technology, it's abundantly powerful. The process of launching apps and fluidly navigating through the interface is seamless, and even graphically demanding gaming titles such as Modern Combat 5 run without a hitch.
Our benchmark tests corroborated this firsthand experience. The Razr 40 Ultra produced robust scores of 1,320 and 4,134 in Geekbench 5's single-core and multicore evaluations, nearly on par with the Samsung Galaxy Z Flip4, which scored 1,291 and 4,015. In addition, both devices required an identical 40 seconds to render a video using Adobe Premiere Rush.
Anticipated to be swifter, the Z Flip5's chip is expected to deliver roughly 20% improved performance across most benchmarks. However, this enhancement is unlikely to noticeably impact the average user's usage. The Motorola device possesses ample power to seamlessly handle any tasks you might put before it, both now and for years to come.
While the new chipset aims to enhance battery life, the practical outcome is of greater significance. Notably, the Ultra is equipped with a 3,800mAh battery (100mAh larger than the Z Flip5's battery), which comfortably supported me throughout a typical day of usage. Yet, it's worth acknowledging that it didn't extend much beyond that timeframe.