At a price point of £999, the 14.5-inch Lenovo Tab Extreme is positioned in the Premier league of tablets, competing alongside the 12.9-inch iPad Pro and Samsung's Tab S9 Ultra. This generously sized tablet becomes even bulkier if you opt to attach the optional Tab Extreme Keyboard, which interestingly bears a striking resemblance to Apple's Magic Keyboard. While I was typing up this review, I personally found the keyboard to be somewhat cramped for my larger hands. However, the keys themselves are well-spaced and offer ample key travel.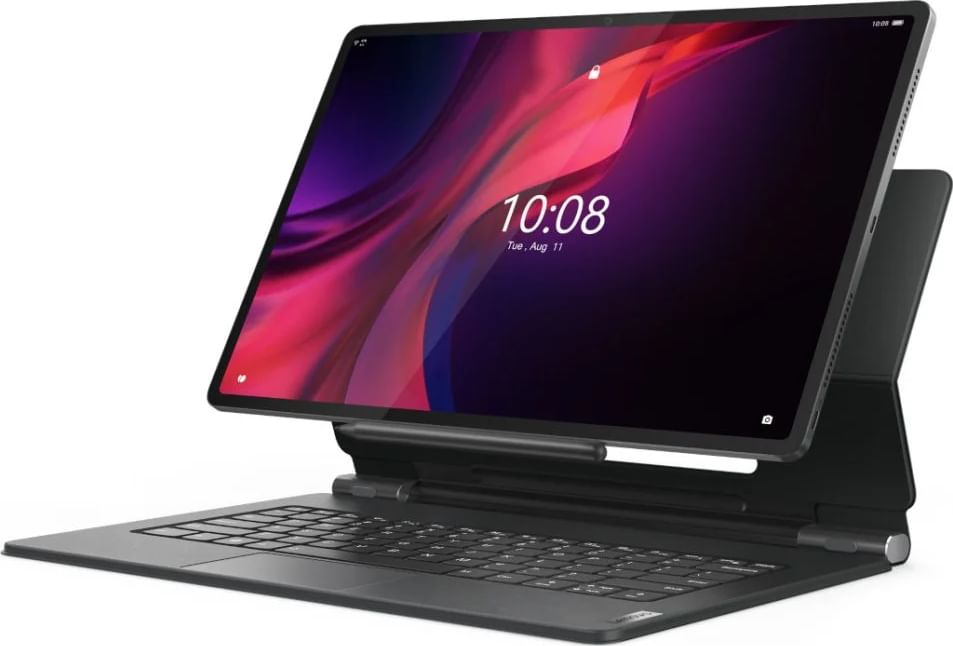 As of now, we don't have the UK pricing information for the keyboard, but in the US, it's bundled with the tablet for $1,099. The £999 price tag, on the other hand, includes a folio case and the Lenovo Precision Pen 3. This stylus offers an impressive 4,096 levels of pressure sensitivity and tilt detection, though it lacks force feedback, which can make note-taking less than ideal.
Nevertheless, it's important not to dismiss the stylus entirely, as it can be used effectively for a range of tasks. The stylus button allows you to perform various functions, from changing tracks on Spotify to navigating slides in PowerPoint. It can also serve as a highlighting tool during presentations or for sketching out specific areas of the screen that you want to capture. Switching between these different modes is simple, as you can do so through the menu that appears on the screen's edge whenever the pen is active.
The Tab Extreme comes with Android 13 pre-installed, and Lenovo has committed to providing support for up to Android 16 with four years of security updates. While iPadOS still holds the upper hand when it comes to app support, I found Android 13 to be a capable and intuitive companion on this expansive screen.
However, I was somewhat less impressed with Lenovo's software offerings. The intention behind this software is to enhance multitasking capabilities, allowing you to view multiple apps simultaneously. This functionality is accessed by tapping the three-dot icon that appears at the top edge of the screen whenever an app is open. This action opens a pop-up menu with four choices: Full Screen, Split Screen, Minimize, or Floating Window.
The first three multitasking options, such as Full Screen, Split Screen, and Minimize, are commonplace on iPads and other Android tablets. However, what sets the Tab Extreme apart is its unique ability to "float" apps on top of everything else.
Regrettably, I encountered several bugs while using this feature. Chrome, in particular, frequently crashed or exhibited odd behavior when in this mode. Lenovo's Freestyle app also proved to be quite buggy, although it's more forgivable as it's still in beta. The app is designed to establish a wireless connection between your PC and the tablet over a Wi-Fi network, allowing you to cast apps to your PC or use the tablet as a secondary display. It's a promising concept but feels sluggish in its current state.
Instead, I recommend taking advantage of the two USB-C ports, both located on the short edge opposite the power button. The central USB-C port is a USB-C 3.2 Gen 1 port that can function as a DisplayPort output for connecting a second screen, while the other acts as a DisplayPort input, enabling you to use the tablet as a secondary monitor. Both ports can also be used for charging the tablet.
Despite its larger 12,300mAh battery, the Tab Extreme performed admirably in our web-surfing test, lasting for a duration almost identical to the Tab S9 Ultra at 9 hours and 27 minutes, while the iPad Pro managed 10 hours and 39 minutes. Notably, Lenovo outshined its competitors when it came to recharge time, with a 30-minute boost taking it to 52%, compared to 28% for Samsung and 20% for Apple.
However, when it comes to performance, the Tab Extreme, while snappy thanks to its 12GB of RAM, falls behind its rivals in benchmarks. The MediaTek Dimensity 9000 chip lags behind the Snapdragon 8 Gen 2 in the Galaxy and Apple's M2, with respective scores of 3,791, 4,970, and 8,500 in Geekbench 5's multicore test. This performance gap is similarly reflected in 3DMark Wild Life Unlimited scores of 8,845, 14,722, and 25,259 for the Tab Extreme, Galaxy, and iPad Pro, respectively.
Experiences with the tablet were mixed. Genshin Impact and Monument Valley 2 both ran well, but Honkai Star Rail stuttered. All three games sounded great, thanks to eight 1W speakers, and listening to music on the Tab Extreme was enjoyable as well. There isn't much bass, but this isn't for want of trying: cranking up the volume slider with a bass-heavy track causes the tablet's metal frame to vibrate in the hands.
As befits a company with net-zero aims , the back of the tablet is made from 100% recycled aluminum. A rectangular protrusion runs down its length, housing a magnetic charging zone for the stylus and two rear cameras. These include a 13MP autofocus unit with an 88° field of view (FoV) alongside a 5MP fixed focus lens with a wider 125° FoV. They capture fine detail but exhibit subdued colors. It's challenging to envision a scenario when one would want to use this tablet for taking photos or shooting videos.
The front-facing 13MP camera made me look good on Google Meet calls with colleagues, although its 122° FoV captured more of the background than ideal. Similar to the rear camera, it can record 4K videos at 30fps.
Should you buy the Lenovo Tab Extreme? The 3K screen is the biggest thing in its favor, and if Lenovo ever offers a deal with the keyboard for £999, it would be tempting. However, Samsung offers more options (including a choice of storage sizes and 5G connectivity), superior speed, and more mature software, making it worth the extra investment.
| Specifications | Details |
| --- | --- |
| Processor | 8-core 3.1GHz/2.9GHz/1.8GHz MediaTek Dimensity 9000 chipset |
| Graphics | Mali-G710 graphics |
| RAM | 12GB |
| Display | 14.5in 120Hz touchscreen OLED display, 3,000 x 1,876 resolution |
| Storage | 256GB |
| microSD Card Slot | Yes |
| Rear Cameras | Dual 13MP/5MP |
| Front Camera | 13MP |
| Wi-Fi | Wi-Fi 6E |
| Bluetooth | Bluetooth 5.3 |
| USB Ports | USB-C 3.2 Gen 1, USB-C 2 |
| Battery | 12,300mAh |
| Operating System | Android 13 |
| Stylus | Precision Pen 3 |
| Accessories | Folio case |
| Dimensions (WDH) | 328 x 5.9-7.2 x 211mm |
| Weight | 740g |
| Warranty | 1 year C&R warranty |