Reviews
Intel Arc A770 Limited Edition
SPECIFICATIONS
PCIeGen4 x16 graphics card
3 xDisplayPort 2 HDMI 2.1
32 Xe-cores
512 XMX engines
8 render slices
32 ray tracing units
2,100MHz graphics clock
16GB GDDR6 memory at 17.5Gbits/sec 225W
3yr warranty
Intel Arc A770 Limited Edition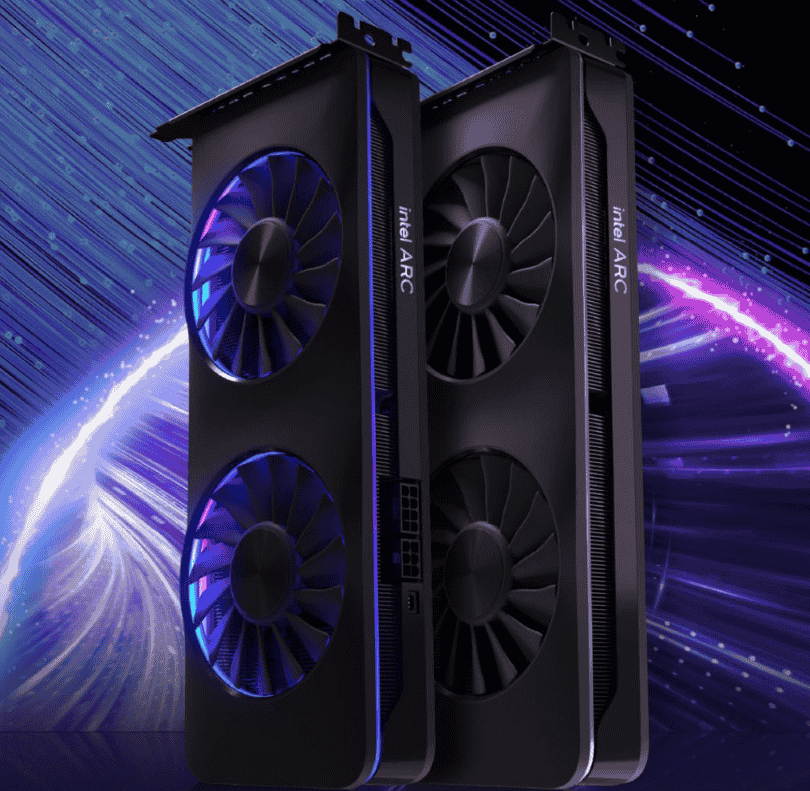 The game industry has been anticipating this moment for a while. On October 12, a third participant joined the gaming graphics card market with the Intel Arc A770 Limited Edition, bringing a product that was not only legitimately competitive but also new to the market.
The entry-level Arc A380 had a limited release in China earlier this year, so technically speaking, the A770 isn't the first Intel card to be built on Intel's Alchemist GPU. However, it is the first real gaming card from Intel, along with the Arc A750, which I evaluate below.
A notable strength of the Intel Arc A770 Limited Edition shroud is how quiet, cool, and stylish it is. We hadn't anticipated the excessive amount of RGB lighting, which is extremely beautiful to look at, that is present on the fans and all along the outside edge of the shroud.
The Intel Arc A770 in question is the 16GB variant. There are two options from Intel, one with 16GB of GDDR6 memory and the other with 8GB. Only the 16GB version will be offered in this Intel-made trim; 8GB variants will eventually become available via Intel's partners.
The fact that Intel's Xe-HPG architecture was built from the ground up for DX12 Ultimate may be the most crucial concept for gamers to grasp. The Xe-HPG formula doesn't work well with DX11 or earlier APIs.
On an Arc Alchemist GPU, a game with a more contemporary API will perform better than older but still very popular titles like Destiny 2, Apex Legends, and The Witcher 3. In general, we're seeing better performance on Arc the more recent the game.
There are a maximum of 32 Xe-cores, and each one of them has 16 256-bit Vector Engines and 16 1,024-bit Matrix Engines.
Vector Engines, which come in pairs and "operate in lockstep" and share a Thread Control, are our friends for rasterized rendering. It takes a similar tack to AMD's RDNA 2 architecture.
What's more fascinating about this inclusion are the Matrix Engines. The MAC, DP4a, and Xe MatriX (XMX) instructions may all be accelerated using these. The latter was developed by Intel and may be utilised to offer 16 times more inference computation capacity than a conventional GPU vector unit. The first two are standard among modern graphics cards. Importantly, where enabled, Intel's new XeSS upscaling technology operates on XMX.
One last thing to consider before making a purchase is that the Arc A770 is a power-hungry card, using up to 262W while gaming and resting at about 220W.
The Arc A770 has the appearance of Intel's first gaming card. Its drivers lack the maturity of AMD and Nvidia, which is evident in their smoother software packages and more reliable performance. Older games might not have received the API driver development they require. There are a lot of benefits here. The card is well-built, dominates the competition in several games, and offers good ray-tracing performance for the money. Everything points to a bright future for Intel's gaming cards, and I can't wait to see what Battlemage, Alchemist's successor, will provide. But if consistency is what you're want right now, the RX 6600 XT not only offers generally comparable frame rates but also does it for £100 less.