In a landscape where Apple undeniably maintains a stranglehold on the tablet market, the question arises: how can alternative manufacturers differentiate their devices? Google Pixel Tablet, designed by Google, provides a distinctive answer – incorporating a stand directly into its design. Notably, Google's innovative charging dock not only enhances the tablet's audio capabilities but also transforms its display into a versatile smart home hub. This unique feature not only distinguishes the Pixel Tablet from the iPad but also sets it apart from its closest competitors in the Android realm – namely, the OnePlus Pad and the Samsung Galaxy Tab S8 .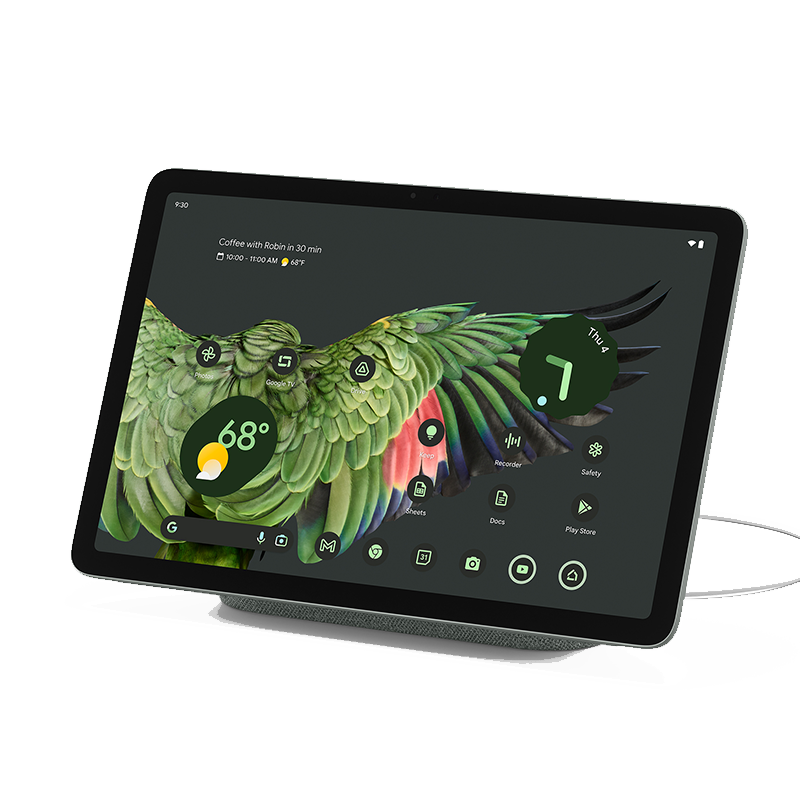 Google Pixel Tablet -Specification
| Specification | Details |
| --- | --- |
| Processor | 8-core Google Tensor G2 processor |
| Graphics | Mali-G710 graphics |
| RAM | 8GB |
| Display | 11in 60Hz touchscreen IPS, 2,560×1,600 resolution |
| Storage | 128GB/256GB |
| Rear Camera | 8MP |
| Front Camera | 8MP |
| Wireless | Wi-Fi 6, Bluetooth 5.2 |
| Ports | USB-C 3.2 Gen 1 |
| Battery | 27Wh |
| Operating System | Android 13 with 5-year Pixel updates |
| Dimensions | 258 x 8.1 x 169mm (W x D x H) |
| Weight | 493g |
| Charging | 15W |
| Speaker Dock | 43.5mm speaker |
| Warranty | 2-year warranty |
However, this innovation inevitably comes with a higher price tag. Priced at £599, the Pixel Tablet exceeds the cost of the basic ninth-generation iPad and even surpasses the £499 price of the latest tenth-generation model . Despite this premium, the Google Pixel Tablet's price point includes not only the charging dock but also an ample 128GB of storage – double the capacity of the entry-level iPad. For those seeking more storage, an option to upgrade to 256GB is available for an additional £100. It's important to note, however, that the absence of a memory card slot means that the chosen storage capacity is fixed.
While Google offers optional case and stand accessories, it's worth highlighting that the Pixel Tablet lacks a corresponding keyboard or stylus – a notable shortfall when compared to rival tablets in the market.
The Pixel Tablet boasts elegant finishes in porcelain and hazel, resembling the Google Nest Hub Max when positioned on its fabric-covered dock. Its placement at a slight angle ensures convenient viewing from a sofa, aided by the screen's generous viewing angles. The tablet is firmly secured by magnets on the dock.
When held, the Google Pixel Tablet offers a comfortable grip with its half-inch bezels. The casing's slightly textured surface enhances its grip even in sweaty hands and remains free of fingerprint smudges. Notably, the power button also serves as a fingerprint reader for effortless unlocking. Positioned at the top in landscape mode are the volume rocker and power button. Each narrow side features two speakers, while the middle of the left side houses a USB-C port. However, there's no provision for a headphone jack.
The tablet features an 8MP f/2.0 front camera placed in the center of the top bezel. The decision to position the webcam along the long edge appeals to personal preference, making video calls feel more natural in landscape mode. The rear camera shares the same specifications, delivering impressive image quality in both directions. Examples include the rear camera capturing sharp medium-range photos, allowing me to read my dog's name tag. Similarly, the front-facing camera accurately renders intricate details, such as individual whiskers on my face.
Both cameras support video recording at up to 1080p and 30fps. While the Google Pixel Tablet lacks 4K shooting capabilities commonly found in tablets within its price range, it compensates with compelling software features. Notably, Continuous Framing mimics the iPad's Center Stage functionality by automatically panning and zooming to maintain your position at the center of the frame during video calls. Moreover, the tablet can project 360° backgrounds, enabling you to freely move the device while colleagues observe captivating settings like a tropical paradise behind you. Although there might be slight silhouetting around the face, the performance of this feature is remarkably impressive.
The 11-inch display offers a delightful visual experience, boasting a crisp 2,560 x 1,600 resolution (equivalent to 276 pixels per inch) and vibrant, bold colors. While it provides an enjoyable viewing experience, its technical specifications aren't particularly groundbreaking. The measured maximum brightness reaches 433cd/m², slightly lower than the Galaxy Tab 8 by 30cd/m². The display covers 85% of the DCI-P3 color gamut, sufficient for impactful film viewing, although some rival Android tablets offer wider coverage (though it's superior to the 10th-generation iPad's 72% coverage). Impressively, the Google Pixel Tablet excels in color accuracy, achieving a remarkable Delta E of 0.05, signifying exceptional display precision.
The tablet's speakers offer a pleasant surprise in terms of power. Positioned on each shorter side of the tablet, they produce impressive sound quality, as long as you avoid tightly gripping the tablet from those sides, which could mute the sound. Placing the Tablet on its dock enhances the audio experience further. The dock features a 43.5mm full-range speaker, contributing rich bass for a more robust audio output. However, it's worth noting that while the docked mode gains in bass, it may sacrifice some treble. Despite this, it doesn't match the pristine clarity of the Nest Hub Max, which boasts a larger and more potent multi-speaker setup.
Running on the latest Android 13 OS, the Google Pixel Tablet ensures longevity with Google's promise of at least five years of updates, ensuring it remains up-to-date. This version of Android accommodates the tablet's larger screen size more effectively than previous iterations. Noteworthy features include the ability to add active widgets to each screen and the option to run two apps side by side. Additionally, the tablet facilitates seamless interaction between apps, allowing you to drag items like photos from one app to another, such as adding photos to an email.
For parents, the Google Pixel Tablet provides the convenience of creating child profiles. These profiles allow you to impose time restrictions, manage permissible app categories, and more. You can even block explicit websites or curate an approved list of specific URLs. During setup, your child can personalize their experience by selecting an avatar and choosing from a variety of interests, from science to princesses. This leads to a customized home screen equipped with shortcuts for games, books, videos, and the "Make" feature (requiring a YouTube Kids account). While not as comprehensive as Amazon's Fire for Kids interface, it stands out as one of the best family-oriented experiences within the Google Play ecosystem.
In addition to its physical resemblance to the Nest Hub Max, the Google Pixel Tablet serves a similar role as a smart home hub. It facilitates convenient control of smart devices through one-touch access, even when the screen is locked. This is accomplished through a small Home icon located in the lower left corner, which activates a collection of quick-access widgets.
However, there are certain limitations to this functionality. While this feature allows for control of devices, it does not extend to actions such as Automations. Notably, Thread or Matter devices are not supported, unlike the Nest Hub Max. Even for compatible devices, accessing the complete range of controls is not always possible. For instance, while I could view a live feed from my Nest Cam and communicate through its speaker, I needed to open the Google Home app to toggle the camera on or off. Similarly, while I could manipulate my connected smart speakers, this was feasible only when something was already playing. On a positive note, I could adjust temperature settings on my Ecobee 5th-gen thermostat and toggle my smart lights on and off.
The Pixel Tablet offers additional features that contribute to its integration within your home ecosystem. If you possess other Google Assistant-enabled smart speakers, you have the option to group the Pixel Tablet with them. This allows for synchronized music playback across your residence or the seamless transition of music from one room to another. Moreover, an interesting capability unique to the Pixel Tablet is the ability to cast video content to it while it's docked – a distinctive feature not offered by any other tablet.