Reviews
Exploring the Features of the Samsung Galaxy Book3 Pro 360
Component
Specification
CPU
Intel Core i7-1360P @2.20GHz
Graphics
Intel Iris Xe Graphics
RAM
16GB DDR5 @6000MHz
Screen
16-inch 3K (2880 x 1800)
Multitouch AMOLED @ 120 Hz
Storage
500GB NVME M.2 2280 PCIe 4.0
Ports
2x Thunderbolt 4, USB 3.2
Type-A, MicroSD, HDMI,
3.5mm headphone/mic combo
Connectivity
Wi-Fi 6E, Bluetooth 5.1
Battery life
Up to 19 hours
Dimensions
0.5 x 9.9 x 13.9 inches
Weight
3.66lbs
Samsung Galaxy Book3 Pro 360- When looking at the Galaxy Book range, one model in particular stands out: the convertible device. It operates as a standard laptop but can also be transformed into a tablet. What's more, it comes with the Galaxy S Pen, making it a versatile option for both productivity and creative tasks. With a price tag of $1,699, is it worth considering over a traditional high-end laptop? One immediate advantage is its slimline design – at only half an inch thick and 3.6lbs in weight, it's easy to transport. This device is primarily aimed at creative and productivity markets, so portability is key, and the Galaxy Book3 Pro 360 doesn't disappoint. Its premium design and Graphite colorway also make it visually appealing.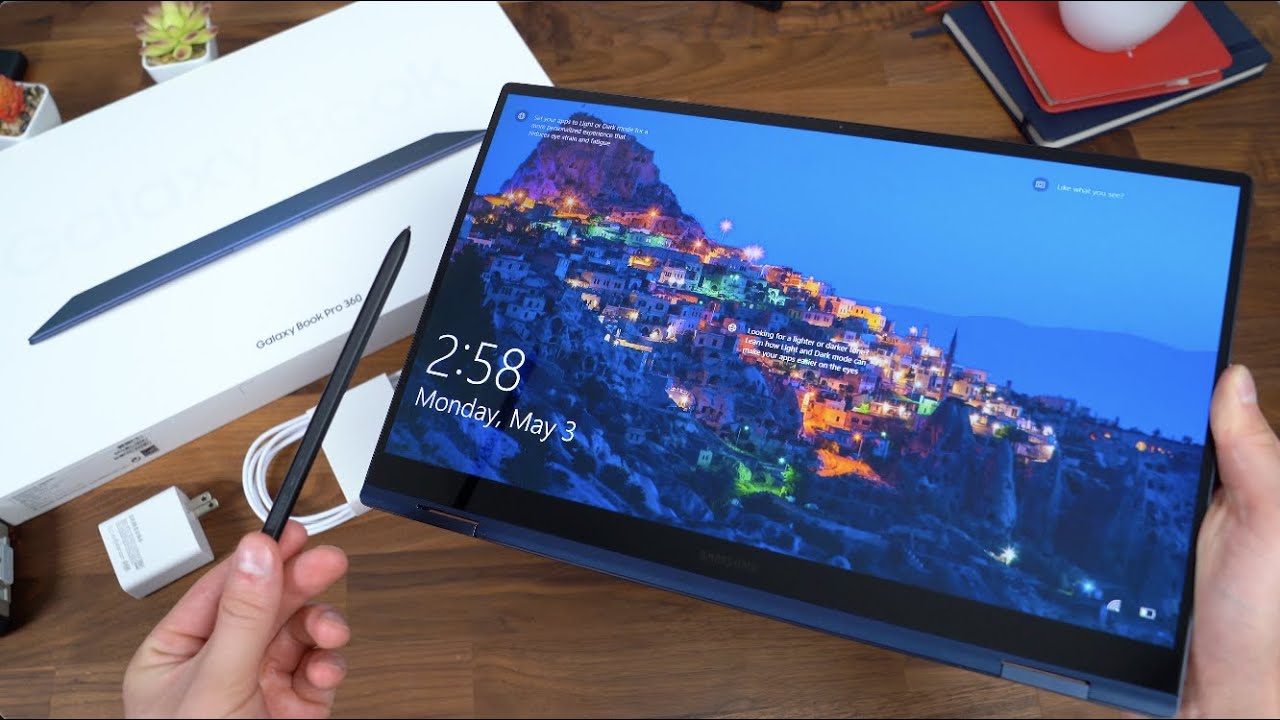 Opening the lid reveals a spacious and responsive trackpad beneath a full ten-key keyboard that is reminiscent of a MacBook. This keyboard allows for quick typing with shallow travel, and it's backlit, while the power button doubles as a fingerprint scanner. In terms of ports, it offers two Thunderbolt 4s, USB 3.2 Type-A, MicroSD, HDMI, and a 3.5mm headphone/mic combo, which is more than enough for a device this slim. The MicroSD card slot will be particularly useful for photographers and videographers. The Full HD 1080p webcam produces decent results, making it perfect for video calls and catching up with friends, especially when in tablet mode.
To switch to tablet mode, simply fold the screen all the way around. The hinges are subtle, and the screen folds flat against the device. However, due to the thinness of the display, there may be some screen wobble. In tablet mode, the keyboard and trackpad are disabled, and the device focuses on the Galaxy Book3 Pro 360's stunning AMOLED 3K touchscreen display. The colors are rich, and the details are clear, with a strong contrast. The display's refresh rate can be increased to 120Hz, giving it a premium feel and a silky-smooth finish
The Samsung Galaxy Book3 Pro 360 has numerous features that make it an ideal choice for drawing on a tablet. Its package includes the Galaxy S Pen which works seamlessly on Adobe Photoshop, Illustrator, and InDesign, or even Microsoft's Fresh Paint. Additionally, it is light enough to take notes when used in portrait mode. The stylus is accurate but requires a little improvement in handwriting skills.
The Galaxy Book3 Pro 360 is powered by an Intel Core i7-1360P chip with 12 cores. The hybrid architecture of Intel ensures that it has four performance cores and eight efficiency cores. It performs well on the Cinebench and produces better results compared to Lenovo's Yoga Slim 9i. It comes with 16GB DDR5 RAM, running at 6,000MHz, and a 512GB SSD. The drive is snappy and records read speeds of up to 6,743Mb/s and write speeds of up to 5,072Mb/s in the CrystalDisk benchmarking. However, a 1TB capacity would be more preferable.
The Galaxy Book3 Pro 360 is a highly productive device with an excellent display, two-in-one functionality, lightweight chassis, large trackpad, decent AKG speakers, and long battery life. However, the price may not be worth it if you are looking for better performance. Despite that, the 13th gen Intel chip and the convertible design are the device's main selling points. If you are looking for a tablet and a fully functional laptop, then there is no better device than the Samsung Galaxy Book3 Pro 360.