Reviews
Experience Lightning-Fast Precision: SteelSeries Aerox 5 Gaming Mouse
AFTER GETTING hands on the SteelSeries Aerox 5 Wireless not long ago, we were impressed by its ultra-lightweight, nine programmable buttons, pinpoint accuracy, and snappy wireless tech. It wasn't perfect, though, and featured some below-par RGB lighting and, more importantly, an RRP of $140.
Aerox 5 Specifications
| | |
| --- | --- |
| Sensor | SteelSeries TrueMove Air |
| Sensitivity | 18,000cpi |
| Polling rate | 1,000Hz (adjustable) |
| Mouse switches | SteelSeries Golden Micro IP54 switches |
| Connectivity | USB Type-A to USB Type-C |
| Weight | 0.14lbs |
There was no creaking or rattling, but it didn't feel as premium as the price tag suggested, and unfortunately, the lack of weight resulted in it feeling a little bit on the cheap side. Regardless, it was concluded that at a slightly lower price, it would make an excellent choice for your desktop.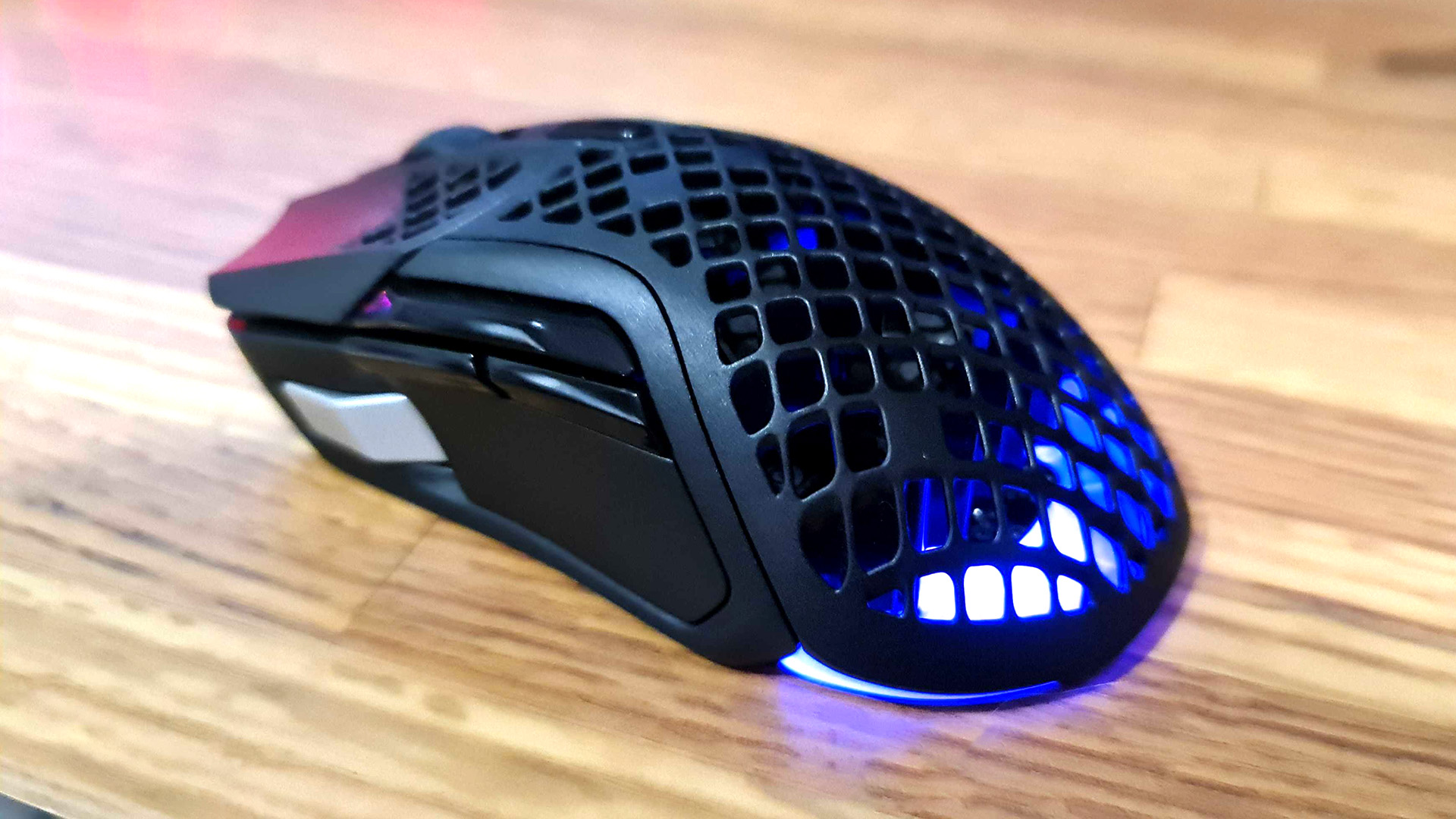 Thankfully, there's a slightly lower priced variant of the same mouse, the non-wireless Aerox 5 model on test here. Aesthetically, it's almost identical to the wireless variant of the Aerox 5, for which users can be thankful. The ergonomic design favors the palm and claw grip techniques. What hasn't improved significantly is the RGB, which just doesn't disperse evenly, and while underglow would have been more than adequate, it instead comes through the aerated upper part of the body.
Construction-wise, the mouse is made of ABS plastic, which, combined with an aerated shell, brings the weight of the mouse to 1.14lbs. That's marginally lighter than the wireless variant, which is assumed to be down to the lack of the wireless receiver.
This creates the only visual difference between the two, with this standard Aerox 5 ditching the wireless connectivity switch, of course. So all users get in the box is their typical small manuals and a detachable 2m super mesh USB Type-A to USB Type-C cord. It's excellent for reducing drag and providing a similar experience to its wireless sibling. Its PTFE feet play a part in this too as they glide effortlessly across your mouse mat. Just like the wireless model, the Aerox 5 has nine programmable buttons that can be taken full advantage of in the SteelSeries Engine application by programming them to users' liking.
The SteelSeries TrueMove Air sensor is the key determinant of the mouse's performance. Developed in collaboration with PixArt, this optical gaming sensor boasts a CPI of up to 18,000 with 100cpi increments, 40G acceleration, and a 1,000Hz/1ms polling rate.
These features can be easily customized in the SteelSeries Engine for an ultra-responsive and snappy gaming experience. This is crucial for eSports players seeking a competitive edge, but it also makes casual activities like playing Solitaire a breeze. Additionally, the Aerox 5's lightweight construction, low drag cable, and PTFE feet make it effortless to glide across your desk. The detachable cable is a thoughtful addition that allows for easy replacement or customization with a longer cable to fit your needs.
Overall, the Aerox 5 shares the same outstanding performance and build quality as its wireless counterpart, the Aero X 5 Wireless, with the only difference being limited connectivity. While the mouse's feather-light weight might not feel as premium, its performance is exceptional.
At an affordable price point of around $60 on sale, and with an RRP of $80, the wired Aerox 5 is a solid choice for gamers seeking a high-quality gaming mouse. While the wireless version may be superior, the difference in price between the two makes the wired variant a more practical option.