Reviews
Experience Immersive Surround Sound with the Corsair HS65 Wireless Headset
It hasn't been long since the wired version of the Corsair HS65 Surround, an impressive sub-$100 gaming headset, was released. Visually, it looked more premium than its $80 price would have suggested, and, more importantly, the audio quality was impressive, with encapsulating surround sound. The only thing holding it back was a lack of features, so Corsair has thrown low-latency 2.4Ghz wireless technology into the mix on this upgrade—for a cost, of course. So, is wireless worth the bump in price, or should you save a few bucks and stick with the wired variant?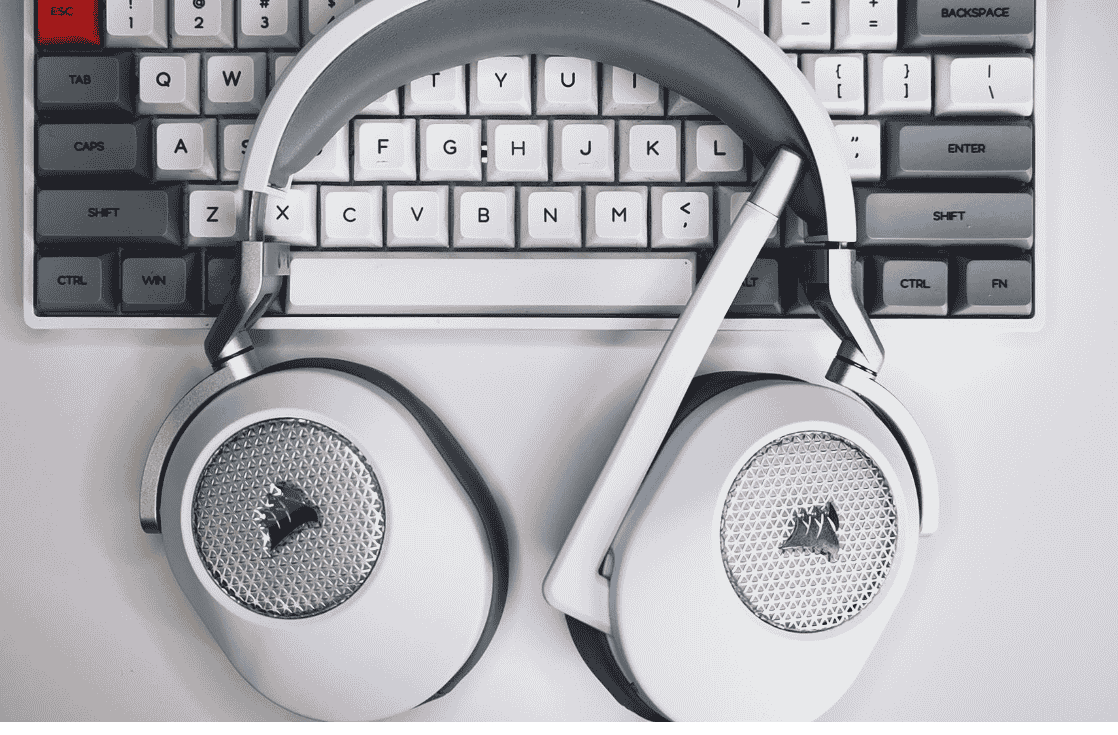 One of the main selling points of the standard Corsair HS65 was its premium build quality and design for a price of just $80. The headset hasn't altered too much, and so the build quality is still impressive, even for its new price of just under $120. Like its wired predecessor, you're getting a lightweight aluminum construction, smooth hinges, and the ability to adjust it to a range of head sizes, which are all important if you're going to be using it for hours on end. The other elements, such as the heavily padded headband, plush earcups, and soft-touch plastic materials, all add to the headset's quality feel. The white and gray aesthetic is great, but if you want a sleeker alternative, there's a carbon black variant. The only changes come down to the controls on the headset.
The fixed cable on the left earcup is gone, making way for a microphone mute button, volume wheel/EQ control, and a USB Type-C charging port. On the right side, you get the introduction of the Bluetooth multi-function button (MFB), headset status LED, and a power button.
In terms of audio quality, the earlier model was impressive, particularly for the price, and even with the increased cost to accommodate wireless, you still get a rich and full soundstage. Details are sharp, and the immersive Dolby 7.1 surround sound does a great job of providing you with pin-point directional audio. In games, this is vital for competitive scenarios and gives you that extra edge over your enemies.
The only real gripe is that the bass is more prevalent than it needs to be, but this can be altered using an EQ in Corsair's iCUE software. With the latest version of the iCUE software installed, you also get access to Sonarworks SoundID technology, essentially a test that builds a personalized EQ for you based on your preferences. It's used worldwide in over 100,000 recording studios for use in triple-A games and by top-level music artists, so it's not a bad feature to take advantage of. Audio quality gets a big tick, but that isn't the main selling point for this version of the HS65—that will, of course, be its wireless functionality.
It uses either Corsair's low-latency 2.4GHz wireless or Bluetooth 5.2 for a range of up to 50 feet. This is handy for when you are wandering around your house and don't want to take your headset off, such as keeping the music going while making yourself a coffee.
The MFB also doubles up as a media control, so it's handy for when you're away from your PC. Performance-wise, the wireless connectivity is stable and snappy, and there were no delay issues or cutouts when gaming.
However, this feature brings a slight negative with it—the need for a battery. Thankfully, battery life is impressive, with a full charge giving up to 24 hours of usage. More importantly, a quick charge of only 15 minutes will get you up to six hours of gaming playback so if you find a dead headset, it won't take long In terms of comfort, we found the Corsair HS65 Surround Wireless to be just as comfortable as its wired counterpart.
The earcups are spacious enough to fit around most ears and the padding on the headband and earcups provide ample cushioning for long gaming sessions. The headset also does a good job of isolating external noise, so you can focus on your game or music without distraction.
Overall, the Corsair HS65 Surround Wireless is a worthy upgrade to its wired predecessor. The addition of wireless connectivity and improved controls make it a more versatile headset, while the audio quality remains impressive for the price point.
The battery life is also a big plus, giving you up to 24 hours of usage on a single charge. If you're in the market for a sub-$120 gaming headset that delivers great sound and wireless connectivity, the Corsair HS65 Surround Wireless is definitely worth considering