Epson WorkForce DS-C490 – Epson's latest A4 desktop scanners are a boon for small businesses, home workers, and reception desks dealing with limited space. These scanners introduce a U-turn paper path, a first for the company. Among these models, the WorkForce DS-C490, the flagship, impressively combines document digitization features within a compact footprint measuring only 296 x 104mm.
Despite its diminutive size, the DS-C490 is highly capable, boasting a 40ppm color scan speed at 300dpi with duplex single-pass scanning. The 20-page automatic document feeder (ADF) features a telescopic paper holder and can accommodate paper weights ranging from 40gsm to 413gsm.
In U-turn mode, the scanner stands almost vertically. However, if you need to scan bulkier documents, you can simply pull out the release lever from the side, causing the body to lean back, allowing documents to exit through the front slot. In straight pass mode, the scanner can handle paper thicknesses of up to 5mm, making it suitable for embossed cards and similar items.
The scanner utilizes a USB 2 connection, which requires a Windows or macOS computer as the host. If wireless support is essential, consider the ScanWay ES-C320W or ES-C380W standalone models, both of which are part of Epson's U-turn series.
Setting up the scanner on a Dell Windows 11 PC took a mere 12 minutes. A single downloadable utility managed the entire process, including scanner discovery, driver downloads, installation of Epson's Scan 2 and Document Capture Pro utilities, and checking for firmware and software updates.
Epson's Scan 2 utility provides ample scan controls and is automatically launched when acquiring scans from other applications using the TWAIN driver. It allows users to select resolution, scan color, greyscale, or monochrome, apply document and content skew correction, choose between simplex or duplex operations, and skip blank pages.
The Document Capture Pro app offers an even wider range of scan management tools. Users can create multiple jobs for various types of scans and save them for quick one-click access from the main interface. Alongside defining scan settings, resolutions, output formats, and destinations, you can employ job separation indexes using features like custom barcode and OCR detection areas.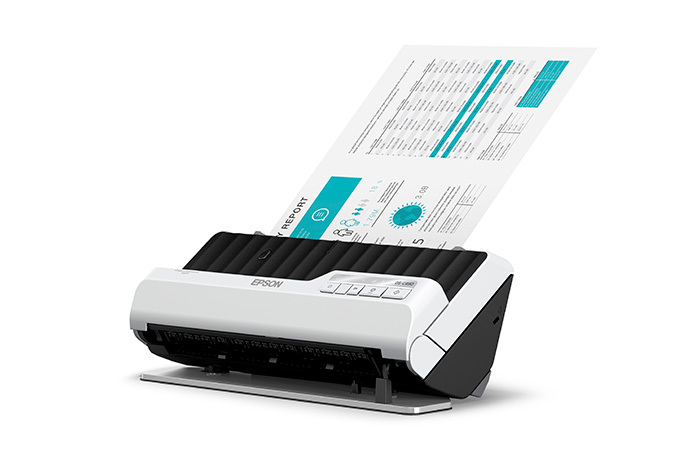 The app offers numerous destinations, including support for email to an SMTP server, direct printing, FTP servers, and web servers via WebDAV. Its cloud connectors enable direct scanning to platforms such as SharePoint Online, Dropbox, Evernote, OneNote, Google Drive, OneDrive, and SugarSync. Additionally, you can assign a job to the scanner's start button for quick one-tap scans.
In our tests, the DS-C490 demonstrated slightly faster performance than its quoted speeds. For duplex greyscale and color scans of 20 bank statements in sPDF format, it achieved an impressive 43ppm at both 200dpi and 300dpi. When the resolution was increased to 600dpi, scan speed decreased to 10ppm for both greyscale and color scans. However, this higher resolution is rarely necessary for archiving purposes, as the quality at 200dpi remains perfectly acceptable. Moreover, the Document Capture Pro OCR service accurately converted every word on our statements, including 6pt fonts.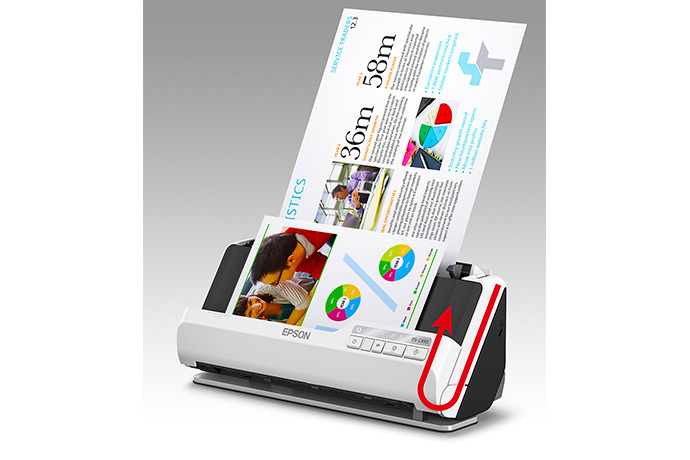 When scanning passports, we recommend using Epson's optional protective carrier sheet. Without it, we experienced passports flopping over the top of the input tray, causing paper jams. Full-speed passport scans can be forceful, but you can activate the "slow mode" button on the scanner's front panel to reduce the scan speed at 200dpi to around 32ppm. An advantageous feature in Document Capture Pro is the ability to create special jobs that recognize a passport's machine-readable zone (MRZ) and export data such as the name or country of origin as text data to a CSV file.
Priced at £451, the WorkForce DS-C490 offers reasonable value. However, it's worth noting that Fujitsu's fi-800R, which is £80 cheaper, features a gentler lower return path slot for passports. Nevertheless, the Epson alternative provides more flexible paper-handling options, and its software bundle delivers excellent scan automation and management features.
| Specifications | Details |
| --- | --- |
| Scanner Type | 600dpi A4 colour scanner |
| Scan Speed | 40ppm at 300dpi colour/mono |
| Scan Mode | Simplex/Duplex |
| ADF Capacity | 20 pages |
| Interface | USB 2.0 |
| Daily Duty Cycle | 6,500 pages |
| Power Supply | External PSU |
| Software | EpsonScan2, Document Capture Pro |
| Dimensions (WDH – Closed) | 296mm x 104mm x 125mm |
| Weight | 1.9 kg |
| Warranty | 1 year RTB warranty |
| Options | Passport carrier sheet, £42 exc VAT |