Looking for a 6K monitor? If that's the case, Apple's Pro Display XDR stands as the sole option available, but its Mac-focused design might not appeal to Windows users. However, Dell has now introduced a long-awaited alternative called the Dell Ultrasharp U3224KB. This impressive monitor not only offers a 6K resolution but also comes equipped with a webcam, microphone, soundbar, and USB-C hub. The display's clarity is truly exceptional, although it does come with a steep price tag.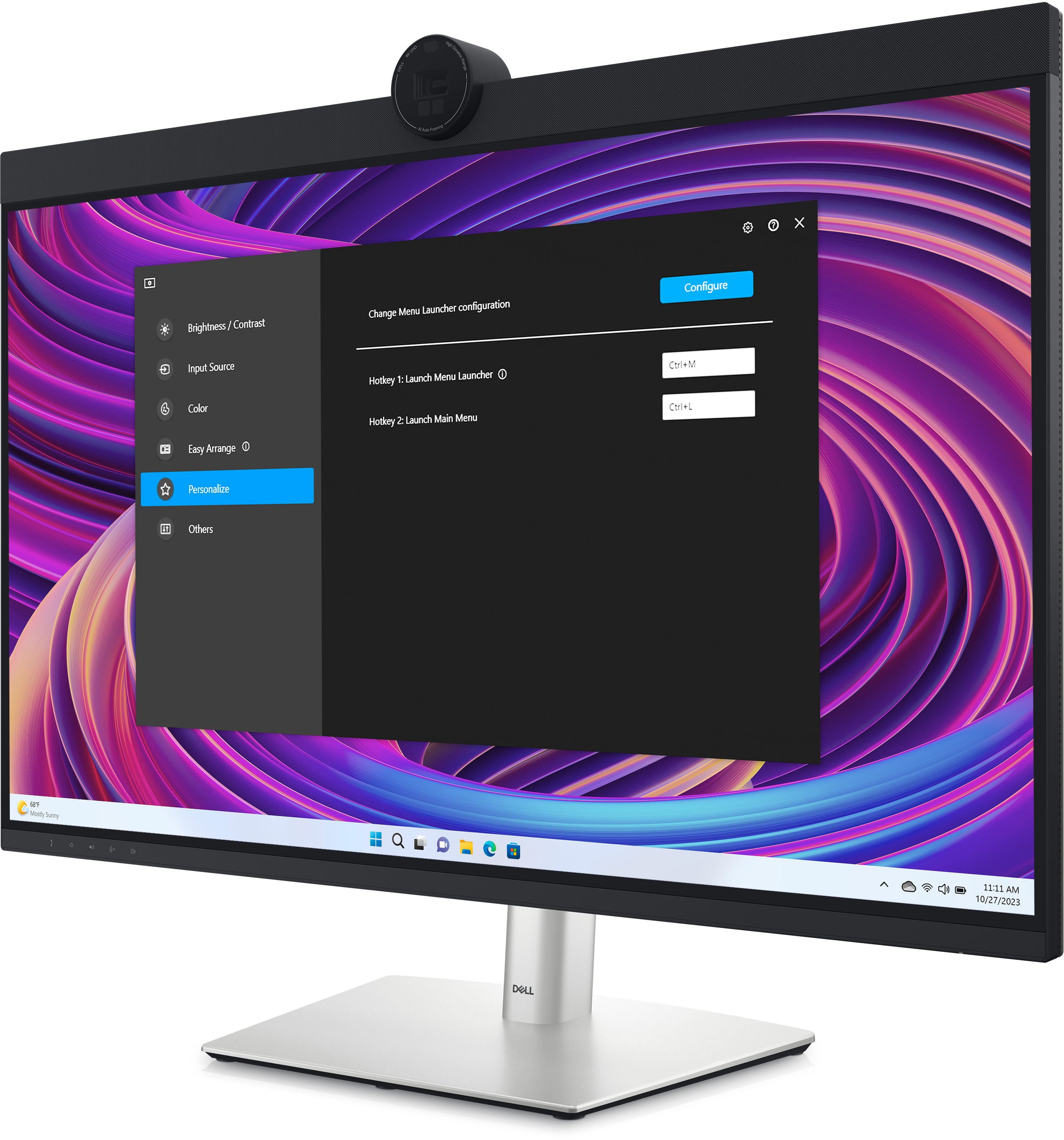 SPECS
The most noteworthy feature of the monitor is undoubtedly its 6144×3456 panel, surpassing Apple's Pro Display XDR resolution of 6016×3384. Dell has also chosen to utilize an IPS Black panel, a novel type of IPS display panel that offers an improved contrast ratio compared to its predecessors.
| | |
| --- | --- |
| Display size | 32-inch 16:9 widescreen |
| Native resolution | 6144×3456 |
| Panel type | IPS Black LCD |
| Refresh rate | 60Hz |
| Adaptive-Sync | None |
| HDR | VESA DisplayHDR 600 |
| Ports | 1× HDMI 2.1, 1x MiniDisplayPort, 1× Thunderbolt 4/USB-C with 140 watts Power Delivery and DisplayPort Alternate Mode, 2.5Gb ethernet, 1× Thunderbolt 4/USB-C, 1× USB-C with 10 watts Power Delivery, 1× USB-A |
| VESA mount | Yes |
| Webcam | 4K HDR |
| Microphone | Included |
| Speakers | Included |
| Price | $3,199.99 |
Priced at $3,199.99, the Dell Ultrasharp U3224KB comes with a significantly high price tag, although not entirely uncommon. Given the absence of any other 6K alternatives in the market, except for Apple's $5,000 Pro Display XDR, Dell seemingly enjoys the freedom to set its desired price.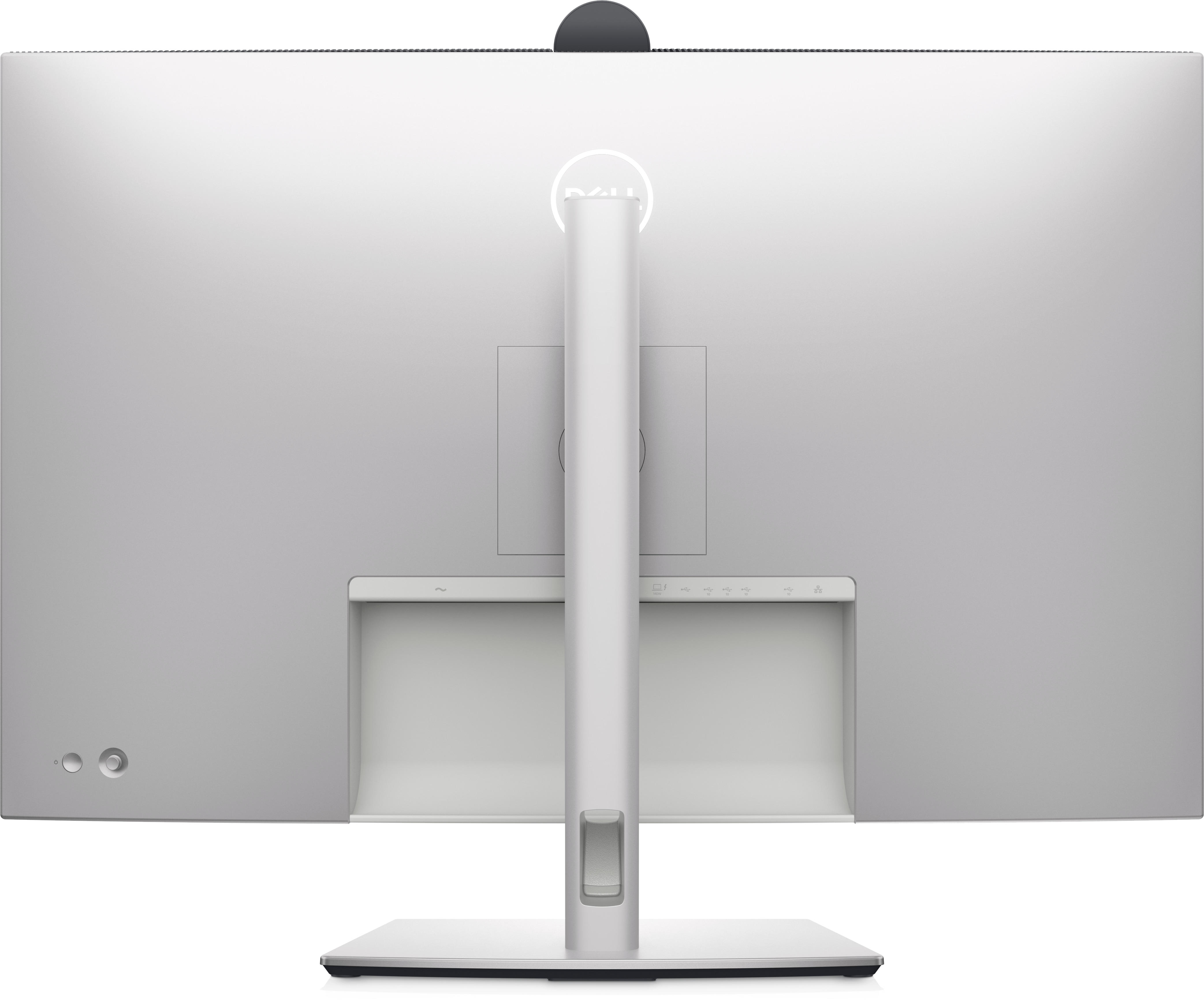 DESIGN
The Dell Ultrasharp U3224KB is equipped with a 6K display, although it's not the first thing that catches your attention. The monitor stands out with its inclusion of a soundbar and a 4K webcam positioned above the display. While this top-heavy design may seem unusual, it functions just as effectively as if the soundbar were located beneath the display.
In terms of build quality, the Dell Ultrasharp U3224KB boasts sturdy silver plastics that resist flex and provide a convincing faux-metallic appearance. However, there is a minor issue to note. The plastics in the bottom left and right corners of the monitor are slightly flexible and tend to creak when handled in that area. Although it likely doesn't affect functionality, it's unfortunate to observe at this price point.
The Dell Ultrasharp U3224KB is supported by a robust stand that ensures its stability on a desk. Despite its sturdiness, the base has a compact profile, allowing some desk surface to remain usable. This is preferable compared to high-end monitors that feature wide, tripod-style stands typically found on LG and Samsung displays. The stand offers height adjustment, tilt, swivel, and can pivot 90 degrees for landscape orientation. Additionally, a 100×100mm VESA mount is included, enabling the attachment of a third-party monitor stand or arm.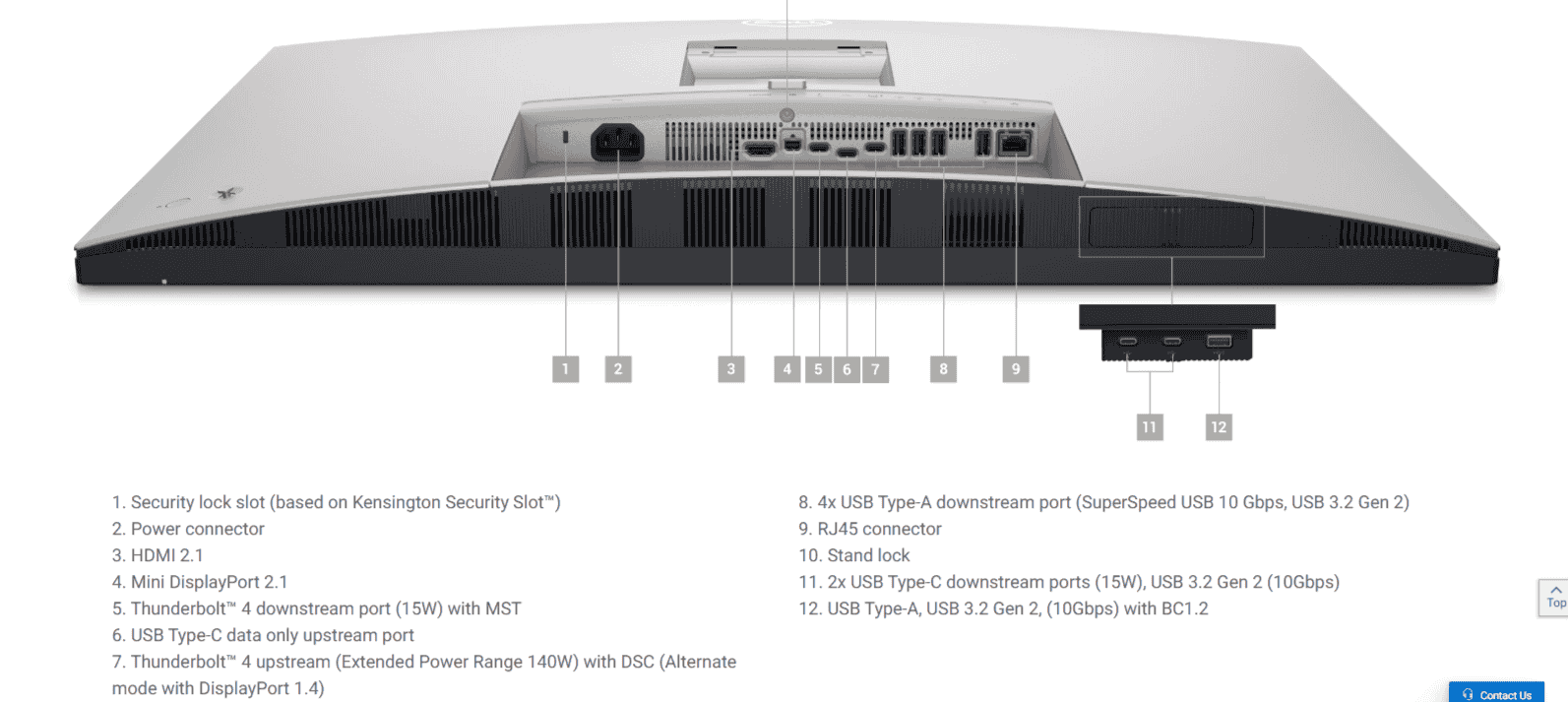 FEATURES AND MENUS
Featuring a Thunderbolt 4/USB-C port with DisplayPort Alternate Mode and an impressive 140 watts of Power Delivery, the Dell Ultrasharp U3224KB offers substantial capabilities. This power output is significant as it can fully support the charging requirements of a new Dell XPS 15 laptop and many other high-end laptops with midrange discrete graphics. Additionally, this port functions as a hub, enabling connectivity for a USB-C downstream port, four USB-A ports, and a 2.5Gb ethernet port. Consequently, the U3224KB serves as a capable USB hub. It's important to note that the monitor lacks a USB-B upstream port, meaning the USB hub functionality is only accessible when the USB-C port is connected.
For video connectivity, the monitor provides HDMI 2.1 and Mini-DisplayPort 2.1 ports. It is worth mentioning that the absence of a full-size DisplayPort 2.1 port is due to early technical issues encountered during VESA's development process. Although these issues have been resolved, Dell had already finalized the monitor's design, resulting in the inclusion of Mini-DisplayPort. Dell acknowledges that the latest AMD Pro graphics cards feature a compatible Mini-DisplayPort 2.1 output. In total, the monitor offers three video inputs, all of which support 6K resolution at 60Hz. However, it is essential to verify the display output standards supported by your PC, as older video cards may lack the capability to handle 6K resolution.
To navigate the on-screen menus, the monitor utilizes a joystick control. Dell's menus are thoughtfully organized and provide a wide range of image quality options, including color temperature adjustment and up to six-axis custom color adjustment for hue, saturation, gain, and offset in the Custom Color mode. The monitor also includes presets for popular color spaces such as sRGB, Rec.709, DCI-P3, and Display P3.
In addition to the joystick, the Dell Ultrasharp U3224KB is equipped with touch-sensitive controls located on the lower-left bezel. These controls allow you to adjust the volume, mute the microphone, or deactivate the camera. Normally invisible, they light up when a finger or hand approaches the lower-left bezel within a half-inch proximity. While most people may not use these controls frequently, as controlling these functions in Windows is typically quicker and easier, privacy-minded users may appreciate the option to deactivate the webcam and microphone.
The built-in 4K HDR webcam on the U3224KB delivers good video quality. While it may not match the quality of a dedicated "real" camera, it offers a comparable level of performance to other 4K standalone webcams like the Logitech Brio and Dell Ultrasharp Webcam. The video output is fairly crisp with a lush and saturated look. The built-in microphone captures audio with clarity and strength, surpassing the quality of most laptop or monitor microphones available in recent years. Together, the camera and microphone ensure you look and sound your best during video calls.
Audio quality from the monitor's speakers is respectable, though not exceptional. The volume can reach high levels, and the presentation is crisp when playing less demanding content like well-recorded podcasts. However, the sound quality can become muddled when listening to music, watching movies, or playing games. Nonetheless, it represents a significant improvement over the small and often underwhelming speakers found in most monitors. The microphone and soundbar feature an echo cancellation feature, allowing users to participate in video calls without the need for headphones.
SDR IMAGE QUALITY
The Dell Ultrasharp U3224KB is advertised as the world's first 6K monitor with an IPS Black display panel. The additional pixels are indeed noticeable on the 32-inch 6K (6144×3456) panel, offering a pixel density of 220 pixels per inch. This represents a significant improvement of approximately 60% over a 32-inch 4K monitor. The pixel density is similar to that of Apple's MacBook Pro laptops and slightly lower than that of a laptop with a 4K display. However, it's worth noting that the extra pixels may not be individually discernible unless viewed in test images or under magnification.
Whether or not you will benefit from the higher pixel count depends on your usage. Most modern applications appear great at 6K resolution, but older applications without proper scaling can be challenging to use without enabling Windows' built-in magnification feature, which can be cumbersome. Games look fantastic at 6K resolution, but running games at this resolution may reduce performance unless you have the latest GPU hardware. Watching 4K movies and streaming shows on the monitor looks great, but the visual experience is not significantly different from watching them on a 4K monitor.
The full benefits of 6K resolution are primarily enjoyed by content creators. Shooting video at 6K resolution or editing large photos can take advantage of the improved resolution, allowing for detailed editing without the need for excessive zooming in and out. In summary, while 6K resolution looks impressive, fully appreciating it requires working with content at extremely high resolutions. Unless you are creating such content yourself, you are unlikely to see the full benefits in a 4K-centric world.
Apart from resolution, the Dell U3224KB performs well in image quality tests. It offers a maximum brightness of 524 nits, which is significantly brighter than what most situations require. The monitor remains comfortable to use even in brightly lit rooms. With its IPS Black display panel, it achieves a low luminance of 0.01 nits, providing a noticeable improvement over typical IPS panels that can only reach as low as 0.06 to 0.03 nits (without Mini-LED backlighting). The resulting contrast ratio of 1,710:1 is respectable for an IPS display but falls behind Mini-LED and OLED monitors in terms of depth and shadow detail.
Regarding color performance, the Dell U3224KB covers 100% of the sRGB color gamut, 99% of DCI-P3, and 92% of AdobeRGB, which is an excellent result surpassing most similar monitors. Only the Asus ProArt PG32DC, featuring a high-quality 4K OLED display panel, slightly exceeds the Dell U3224KB's color gamut coverage. Color accuracy is solid, with minor color errors that are unlikely to be noticeable to most users. The monitor achieves a gamma curve of 2.2 (on target) and a default color temperature of 6800K (just slightly cooler than the target of 6500K), indicating good results.
In summary, the Dell U3224KB provides a great visual experience and outperforms 4K competitors when working with 6K content. Its image quality, including brightness, contrast ratio, color gamut coverage, and color accuracy, is impressive. However, potential buyers should consider whether the trade-off between sharpness (6K resolution) and depth (contrast ratio) aligns with their specific needs and content creation requirements.
Pros
Wonderfully crisp 6K resolution.

• Quality integrated webcam, microphone, and soundba

Versatile USB-C hub with 140 watts power delivery
Cons
Medicore contrast ratio for the price.

HDR performance is merely adequate

Benefits of 6K won't be noticeable with most movies and games.