There has been an increase in the number of mini PCs that resemble Intel's NUC series, which are typically compact and measure 36x135x115mm (HxWxD). The Dell OptiPlex 7000 Micro, however, is a bit larger, measuring 36x182x178mm.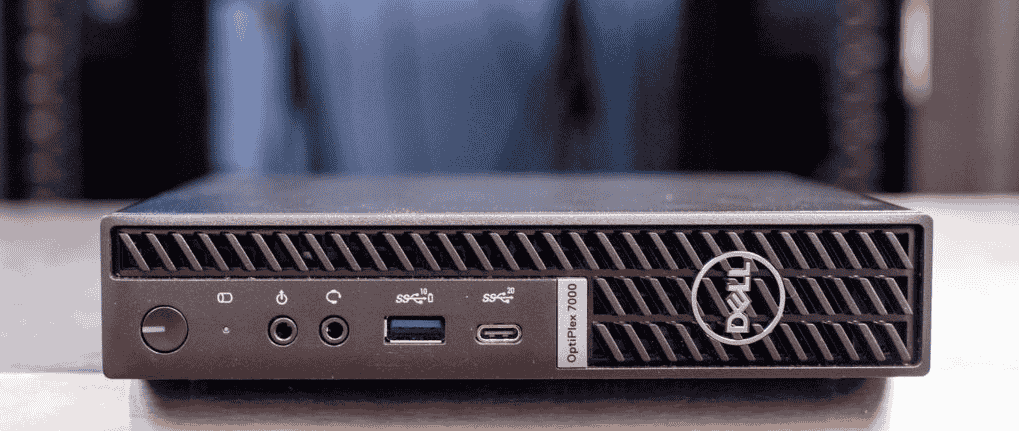 It can be positioned upright like a tower or laid flat on a desk. Dell refers to these as "Micro Form Factor" PCs. The majority of its ports are on the back panel, including three DisplayPorts, three USB 3.0, one Ethernet socket, and a power connector. On the front, there is a power button, mic and headphone ports, one USB 3.0 port, and one USB-C port.
Processor
Twelve-core Intel Core i7-12700T
RAM
16GB
Graphics
Intel Iris Xe
Storage
256GB SSD
Wireless
Wi-Fi 6E
Wired
Ethernet port
USB
1x USB-C ports
4x USB 3.0 ports
Display
3x DisplayPorts
Operating System
Windows 10 Pro (free upgrade to Windows 11 Pro)
Dimensions
36x182x178mm (HxWxD)
Weight
940g
Warranty
One-year warranty
All of these ports are positioned sensibly, with the monitor and networking ports hidden at the back. The USB 3.0 ports at the back are ideal for infrequently used peripherals like external drives, while the front ports are great for quick access to devices such as USB drives and charging devices. In testing, the OptiPlex 7000 Micro performed well for general Windows work such as research tasks, managing emails, hosting virtual meetings, working on spreadsheets and documents, and even some light photo editing. However, it is not meant for gaming or heavy-duty creative tasks, as it lacks a separate graphics card and relies on the Iris Xe graphics built into the Intel processor.
The impressive performance of this PC can be attributed to its 12th-generation Intel Core i7-12700T processor and 16GB of RAM. The 256GB SSD storage may be slightly insufficient, but it should suffice if you don't plan on installing too many additional programs.
In benchmark testing, this PC performed comparably to the Intel NUC 12 Pro, which costs £540 (reviewed in Issue 648). This makes the Intel option appear more cost-effective. However, it's worth noting that Dell provides memory and storage with the PC, whereas you must purchase and install your own with the NUC 12 Pro. Nevertheless, you could purchase 16GB of RAM and more storage than Dell provides for less than £100. Consequently, you pay considerably more to have Dell fit it into a larger case.
If you're okay with the increased size, though, you'll get considerably more power for your money with our current favourite PC.