The HS80 MAX headset doesn't just prioritize audio quality; it's packed with a range of impressive features. Building upon the success of its predecessor, the HS80, which offered a rich, warm soundstage, a comfortable headband, and a sleek design, the HS80 MAX aims to enhance these qualities.
Specifications
50mm neodymium driver
20Hz – 40,000Hz
32 Ohms
USB-C, Bluetooth, wireless 2.4GHz
PC, Mac, PS4 & PS5
Up to 65 hours w/o RGB
Closed-back
In terms of design, it retains the familiar look with its somewhat boxy ear cups, suspended headband, and a convenient flip-to-mute microphone, which has been seamlessly carried over from the previous model. It's available in black or white/gray color options, offering a somewhat subdued appearance, with the RGB logos and LED indicator on the microphone end providing a dash of color. The majority of the HS80 MAX is constructed from durable plastic, with the headband reinforced by lightweight aluminum. Notably, the yokes connecting the earcups are also made of aluminum, adding resilience to wear and tear.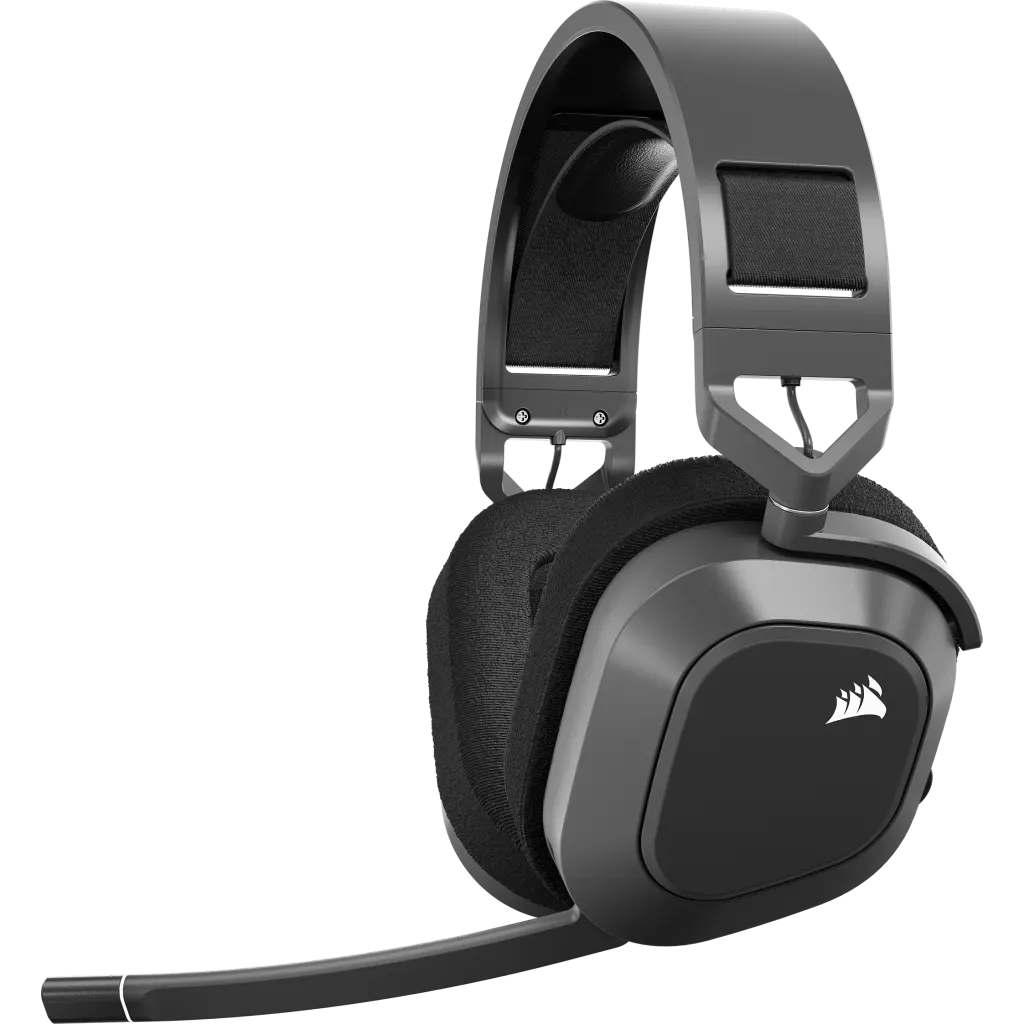 Comfort is another highlight, although it exerts slightly more clamping force than preferred. Much like its predecessor, it features a ski-band style suspended headband crafted from soft fabric. This headband is adjustable, allowing you to customize the fit, unlike traditional headsets where you adjust each cup individually. Plush earpads further contribute to the overall comfort, ensuring you can wear the headset for extended periods without discomfort. While it weighs in at 0.77lbs, it may not be the lightest headset available, but it remains comfortably lightweight.
In terms of physical controls, the HS80 MAX keeps it minimal. There's a power button and a volume wheel located behind the left earcup, while the Bluetooth button is situated behind the right earcup. The microphone can be easily controlled by lifting it to mute or lowering it to use. A hidden and noteworthy feature for PC users is that pressing the volume wheel opens up the Corsair iCue app, providing access to EQ settings, lighting options, and other general functions.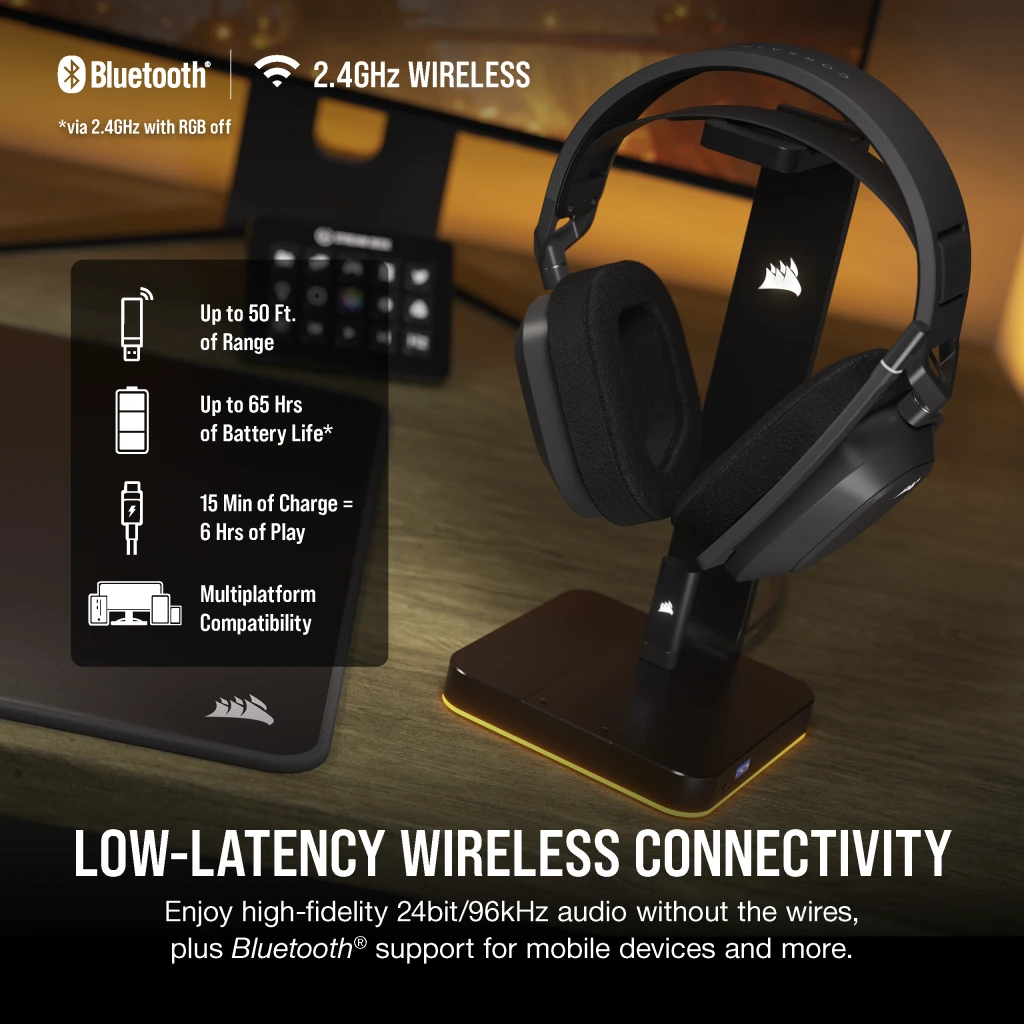 Indeed, the HS80 Max has adopted the "if it ain't broke, don't fix it" approach, and it's shaping up to be a promising choice. However, when it comes to sound quality, the Corsair HS80 Max leans away from neutrality. It exhibits a noticeable boost in the low-mids, accompanied by slightly rolled-off highs. The result is a warm and inviting sound profile, which can be appealing to those who appreciate a bit of extra warmth and richness in their audio experience.
It's important to clarify that the HS80 Max is not a bad-sounding headset by any means. In fact, it offers a good audio experience. However, it does have some drawbacks, particularly in the context of its price range. Despite these concerns, the overall listening experience is enjoyable. It excels in gaming performance, thanks in part to the low-mid boost, which contributes to a deep and immersive sound.
To enhance the gaming experience further, this headset supports Dolby Atmos, accessible through the Dolby Access app. While the effect may be subtle, it adds a three-dimensional quality to game audio without overwhelming it, as some spatial audio solutions can.
Where the HS80 Max truly shines is in its extensive set of features. You have the ability to map functions to the scroll wheel button in the iCue software. Additionally, it offers both 2.4GHz and Bluetooth connectivity, making it compatible with a wide range of platforms, though it lacks multipoint connectivity. The ten-band EQ, more robust than many companion apps, along with EQ presets, provides ample customization options. Furthermore, the option to create a personalized EQ or sound profile via Sonarworks SoundID personalization offers even more control over your audio experience. Lastly, the impressive 65-hour battery life, albeit with RGB lighting turned off, is a notable highlight.
Priced at $180, the HS80 Max firmly occupies the mid-range segment. It strikes a balance, offering a reasonable blend of performance, comfort, and features without breaking the bank. While it may not command the same level of attention as a high-end option like the Audeze Maxwell, it also doesn't compromise on quality like the Corsair HS65 Surround, making it a well-rounded choice in its category.