Reviews
Best SEO Tools for Bloggers in 2023
Best SEO Tools for Bloggers in 2023 – In the ever-evolving world of blogging, staying on top of search engine optimization (SEO) trends is crucial to drive organic traffic to your website. To help bloggers succeed in 2023, we have curated a list of the best SEO tools that will supercharge your website's performance and boost your online visibility.
1. Semrush
When it comes to comprehensive SEO tools for bloggers, Semrush stands out as an industry-leading solution that empowers bloggers to harness the power of data and optimize their websites for maximum visibility. In 2023, Semrush continues to be a must-have tool for bloggers looking to enhance their SEO efforts and drive targeted organic traffic to their blogs.
Features:
Keyword research
On-page SEO Rank
tracking Competitor SEO
analysis Content optimization
Semrush has long been recognized for its strong SEO features, including tools for keyword research and competitive intelligence. However, it has evolved into a comprehensive solution that encompasses nearly every aspect of establishing an effective online presence.
Keyword Research: Semrush provides extensive keyword research tools to help identify relevant and high-performing keywords for SEO and PPC campaigns. It offers data on search volume, competition, trends, and related keywords.
Competitive Analysis: Semrush enables users to analyze their competitors' online strategies, including organic and paid search tactics, backlink profiles, and advertising campaigns. This information helps uncover opportunities and develop effective strategies.
On-Page SEO Optimization: Semrush offers tools to optimize web pages for better search engine rankings. It provides suggestions for improving on-page elements such as titles, meta tags, headings, and content structure to enhance overall SEO performance.
Backlink Analysis: This feature allows users to analyze their backlink profile and identify potentially harmful or spammy links. It helps in building a strong and authoritative backlink profile for improved search engine visibility.
Site Audit: Semrush conducts a comprehensive audit of websites to identify technical issues that may affect SEO performance. It provides recommendations for optimizing site speed, mobile-friendliness, and fixing broken links.
Social Media Management: Semrush offers social media management tools to schedule posts, monitor engagement, and track performance across various social media platforms. It helps in developing and executing effective social media strategies.
Content Marketing Tools: Semrush provides content optimization features to analyze and improve the quality and relevance of website content. It includes tools for topic research, content creation, and SEO writing assistance.
Rank Tracking: Semrush allows users to track their website's search engine rankings for targeted keywords over time. It provides insights into position changes, search visibility, and competitor comparisons.
Advertising Research: Semrush provides valuable insights for paid advertising campaigns. It offers data on competitors' ad strategies, keywords, ad copies, and estimated budgets to optimize ad campaigns.
Reporting and Analytics: Semrush offers customizable reports and analytics to monitor and measure the effectiveness of digital marketing efforts. It provides data on website traffic, keyword rankings, backlink profiles, and more.
Starting at $119 per month (with annual payment), plans offer a range of options to suit your needs. All plans include Semrush's comprehensive suite of 25+ tools, encompassing site audits, keyword research, on-page SEO checks, backlink audits, and much more.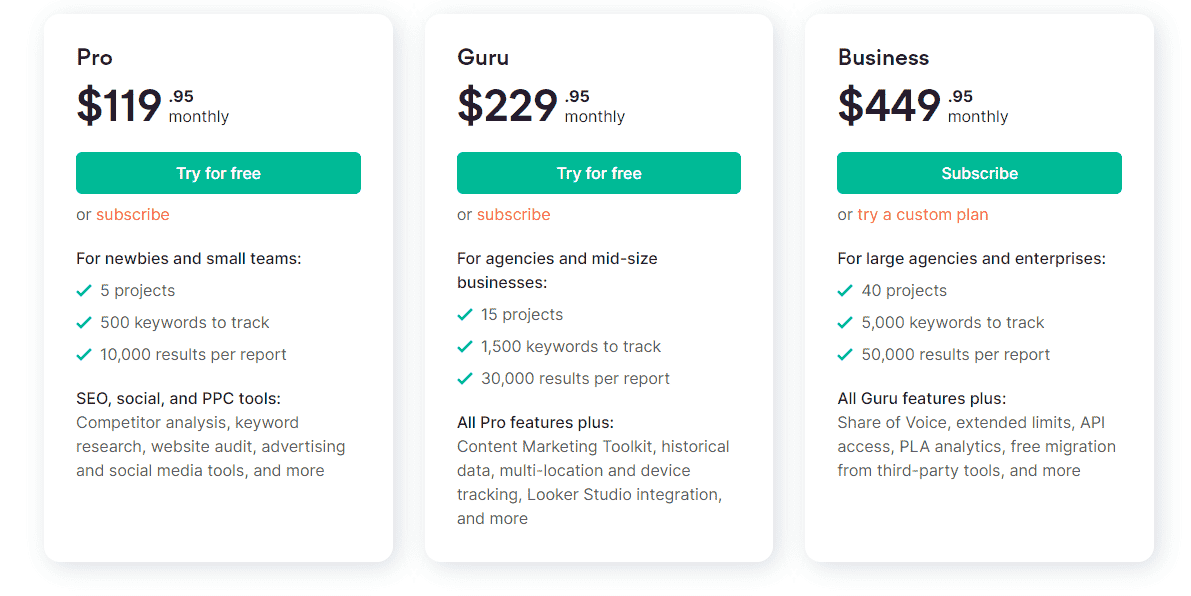 As you move up the plans, you'll gain access to an expanding array of features. However, what truly distinguishes each plan are the specific benefits they offer. These include the quantity of results accessible to you, the number of projects you can initiate, and the ability to schedule a varying number of PDF reports.
2. GrowthBar
GrowthBar is a powerful SEO tool that provides valuable insights and data to help your website grow and improve its search engine visibility. With GrowthBar, you can easily access important SEO metrics and competitive analysis right from your browser.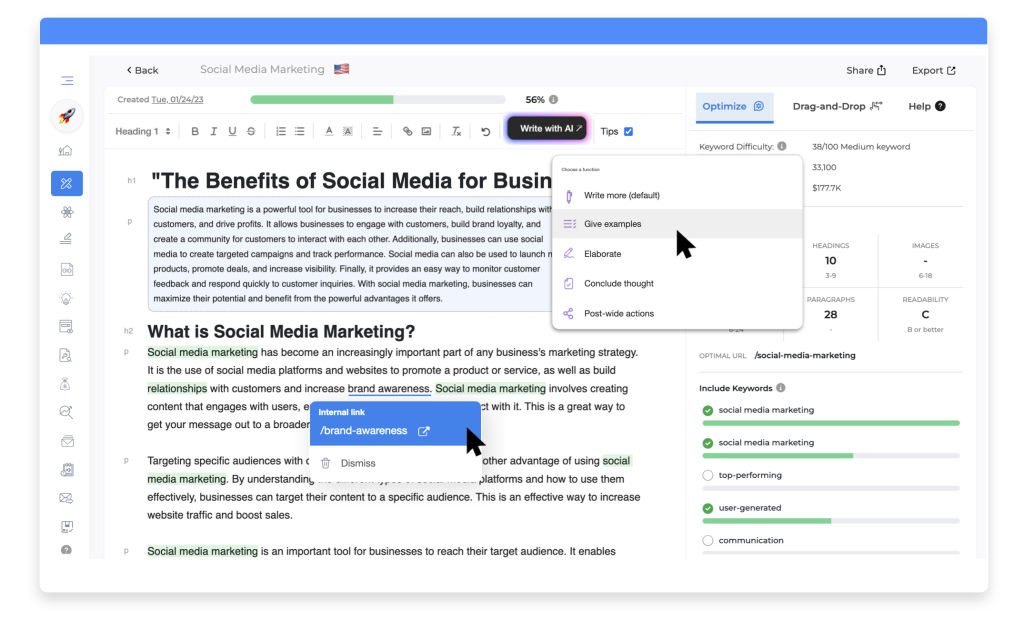 Key features of GrowthBar include:
Keyword Research: Discover relevant keywords with search volume, competition level, and suggested bid information. Identify high-opportunity keywords to target for better search rankings.
Backlink Analysis: Analyze the backlink profile of any website, including the number of backlinks, referring domains, and anchor text distribution. Uncover valuable link building opportunities to enhance your website's authority.
Competitor Analysis: Gain insights into your competitors' SEO strategies. Compare keyword rankings, backlink profiles, and traffic estimations to identify areas where you can outperform your competition.
On-Page SEO Suggestions: Get instant recommendations to optimize your website's on-page elements. Improve meta tags, headings, content, and other on-page factors to boost your search engine visibility.
SERP Analysis: View search engine results pages (SERPs) for specific keywords to understand the competition and identify content opportunities. Analyze featured snippets, related searches, and paid search ads to refine your SEO strategy.
Rank Tracking: Track your website's keyword rankings over time and monitor your progress. Identify changes in rankings and make data-driven adjustments to improve your organic search performance.
GrowthBar simplifies the SEO process by providing easy-to-understand insights and recommendations. Whether you're a beginner or an experienced SEO professional, GrowthBar can help you make informed decisions to drive growth and increase organic traffic to your website.
Bloggers especially love GrowthBar for its affordable pricing (starts at $29/month). But you can get it free with the link below.
Ahrefs is a comprehensive SEO toolset that offers a wide range of features to help you optimize your website's search engine performance. With Ahrefs, you can access valuable data and insights to improve your organic rankings, analyze your competitors, and enhance your overall SEO strategy.
Key features of Ahrefs include:
Site Explorer: Explore any website's backlink profile, organic search traffic, top-performing pages, and referring domains. Gain a comprehensive understanding of your own site or spy on your competitors to uncover their strategies.
Keyword Explorer: Discover relevant keywords and assess their search volume, keyword difficulty, and click-through rates. Find keyword ideas, analyze search trends, and determine which keywords to target for optimal results.
Content Explorer: Find popular and trending content in your niche. Identify top-performing articles, study their backlink profiles, and gain insights into what makes content successful in your industry.
Rank Tracker: Monitor your keyword rankings over time and track your progress. Stay informed about changes in rankings and evaluate the effectiveness of your SEO efforts.
Site Audit: Identify and fix technical SEO issues on your website that may impact your search rankings. Get recommendations for improving your site's crawlability, site structure, and other crucial on-page factors.
Competitive Analysis: Analyze your competitors' organic search rankings, backlink profiles, and content strategies. Identify opportunities to outrank them and improve your overall SEO performance.
Backlink Analysis: Evaluate your own or your competitors' backlink profiles. Discover new link-building opportunities, identify toxic or spammy links, and monitor your backlink growth.
Ahrefs provides a wealth of data and tools to empower your SEO efforts. By leveraging its features, you can make informed decisions, optimize your website's performance, and drive more organic traffic and visibility.
Ahrefs caters to a wide range of users, from junior marketers to large agencies, by offering four flexible payment options. Whether you're running a business or managing a blog, Ahrefs has the right solution to support your SEO optimization needs. Their payment options include Lite, which starts at $99 per month, and scales up to Agency, ensuring that there is a plan suitable for every budget and requirement. With Ahrefs, you can confidently rely on their versatile tools to drive growth and achieve your SEO goals.