Reviews
Best External Hard Drives and Storage for Video Editing
Video editing can be a time-consuming and resource-intensive task. To ensure that your editing process goes smoothly and efficiently, it's crucial to have a reliable and high-performing external hard drive or storage solution. Here are some of the best options on the market for video editors.
1. G-Technology 2TB G-DRIVE Mobile Pro SSD
The G-Technology 2TB G-DRIVE mobile Pro Thunderbolt 3 External SSD is designed for demanding workloads and offers the ability to edit multi-stream 8K footage at its full frame rate, quickly render VR projects and experience them at full resolution, and transfer data at speeds up to 2800 MB/s using the portable, durable, and shock-proof 2TB G-DRIVE mobile Pro Thunderbolt 3 External SSD from G-Technology. A protective aluminum core helps prevent overheating to maintain high levels of performance while a custom enclosure insulates the drive to prevent the exterior from heating up while in use.
Additionally, its rugged design provides shock-resistant storage that protects against drops up to 9.8′ and a crush-proof rating of up to 1000 lb.
G-Technology's 2TB G-DRIVE mobile Pro Thunderbolt 3 External SSD is preformatted for macOS 10.13 and later, and may be used with Windows 10 via a simple reformat. Included is a Thunderbolt 3 cable which provides bus power, meaning that no external power sources are required and protection is provided by a limited 5-year warranty.
The G-DRIVE mobile Pro SSD boasts a speedy storage speed of 2800 MB/s, enabling full frame rate editing of multi-stream 8K footage, speedy VR project rendering, and optimal VR experience in full resolution.
2. SanDisk G-Drive PRO SSD
The G-DRIVE PRO SSD offers a massive 2TB of storage with a blazing fast speed of 2800MB/s, enabling you to effortlessly edit multi-stream 8K footage at full frame rate and quickly render VR projects with full resolution, no matter where you are.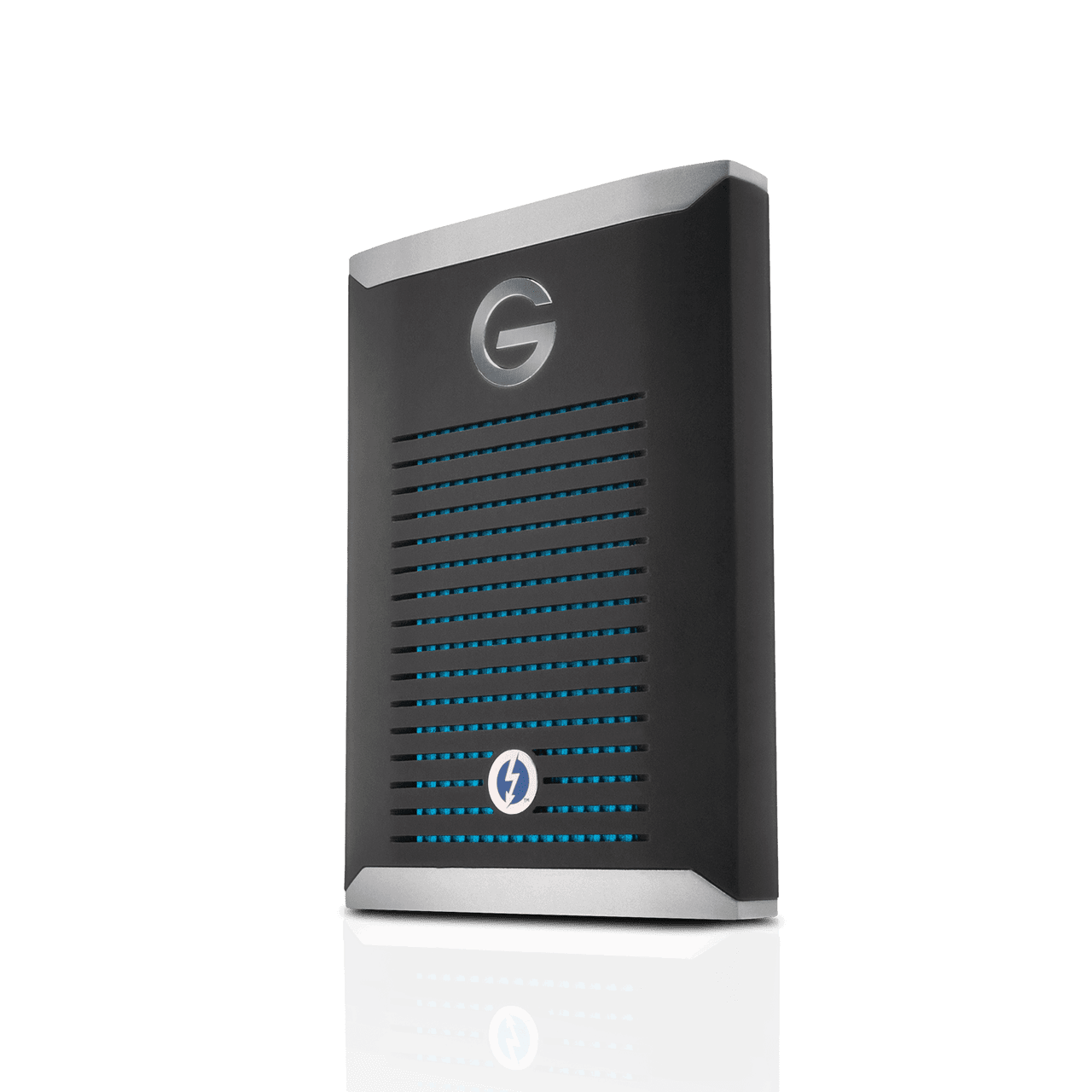 The G-DRIVE PRO SSD drive offers shock-proof storage in a sturdy case, which can withstand drops of up to 3 meters and crushing weights up to 1000lbs. It is engineered with carefully selected components to endure the hardships of travel.
Compatibility
Details
macOS 10.13+
Compatible with macOS 10.13 or later
Windows 10+ (via reformat)
Compatible with Windows 10 or later (requires reformatting)
Dimensions (L x W x H)
112mm x 80mm x 17mm
In The Box

G-DRIVE PRO SSD
1 x 0.5m Thunderbolt 3 Cable (40Gbps)
Quick Start Guide
This is a professional-grade, portable NVMe SSD that can be easily connected to Windows or Mac devices via Thunderbolt 3 (up to 40Gbps) with the compact USB-C to USB-C cable. Unlike other drives, this one comes with a ruggedized case that protects both your investment and data from potential damage caused by everyday wear and tear.
3. Toshiba Canvio 
The Toshiba Canvio Basics drives are portable external storage devices that live up to their name – basic. With an all-black design, these drives don't come with any additional utilities or fancy features. They only feature a drive activity LED and a USB micro type B connection. Designed specifically for data storage and transport, these drives aren't meant for much else.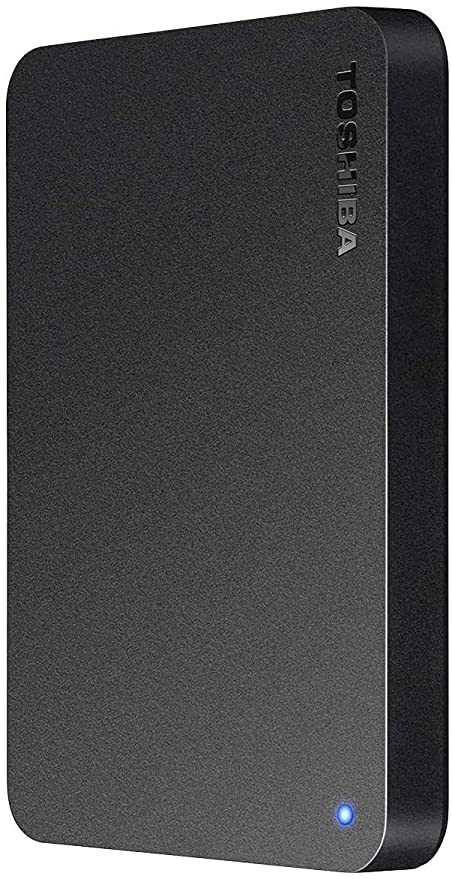 When cost is the primary consideration, HDDs are a great option as they offer significantly more storage for a lower price than SSDs. Although HDDs are not as fast as SSDs and are more prone to damage due to their rotating disk, the LaCie Rugged provides an excellent value with 5 TB of storage for under $200. On the other hand, the Toshiba Canvio is a reliable option for video professionals who use it as a cold storage solution rather than everyday hot storage. You can purchase 1 TB of storage for as little as $50, depending on where you buy the Canvio.
4. Rugged Mobile Storage
The LaCie Mobile Drive embodies the elegance and significance of ample space, akin to an airy loft or expansive terrain. It offers a substantial storage capacity of up to 5 TB, ample enough to store your photos, music, documents, and other files. The drive is compatible with Mac®, Windows®, and iPad USB-C1 straight out of the box, ensuring seamless file storage through one-click or automatic backup. The drive features a striking 30th anniversary diamond-cut design, lending it a unique and distinguished appearance.
Perfect for artistic travelers such as photographers and artists, its sturdy and protected casing can withstand shocks, dust, and rain, and offers a storage capacity of 4TB (with additional choices available).
The LaCie Rugged Portable Drive truly lives up to its name, as it has been tested and proven to be highly resistant to water, dust, and even drops. It even held up when a 1-ton vehicle was placed on its chassis, with the data inside remaining intact. In contrast, a Western Digital Elements External Hard Drive would have been crushed under the same pressure and lost all of its data. For a more delicate hard drive, check out our review on the G technology G Drive.
While its transfer rate may not be impressive, with a read-write speed of 130 MB/s, it falls short compared to the Toshiba Canvio Basics which boasts a speed of 480 MB/s to 5 Gbit/s. However, the LaCie Toolkit software makes it easy for even beginners to back up, schedule, and sync their devices.