Asus' Zenfone smartphones have consistently offered substantial power within a conveniently compact size, and the latest addition, the Asus Zenfone 10, maintains this winning formula. Priced at £749 for the 8GB RAM and 256GB storage variant (or £819 for the 16GB/512GB model), it presents itself as a streamlined alternative to the Samsung Galaxy S23 .
Undoubtedly, the Zenfone 10 possesses a distinct personality. Its 5.9-inch form factor deviates from the trend of larger Android phones prevalent today, with a mere weight of 172g. This lightweight attribute is partly attributed to its bio-polycarbonate back, available in various finishes as showcased below. Despite the plastic construction, the Zenfone radiates a sense of quality; its textured grip is particularly advantageous for comfortable one-handed usage. Notably, the presence of a 3.5mm headphone jack on the top edge is a welcomed inclusion, especially considering that this design element doesn't compromise the device's IP68-certified dust and water resistance.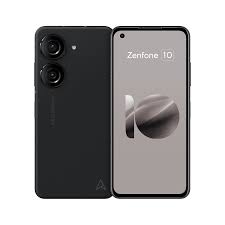 SPECIFICATIONS
| Specification | Details |
| --- | --- |
| Processor | 8-core (3.2GHz/2.8GHz/2GHz) Qualcomm Snapdragon 8Gen 2 SoC |
| RAM | 8GB/16GB |
| Graphics | Adreno 740 |
| Screen | 5.9-inch 144Hz AMOLED screen, 1080×2400 resolution |
| Storage | 256GB/512GB |
| Camera (Rear) | Dual 50MP/13MP cameras |
| Camera (Front) | 32MP |
| Connectivity | Wi-Fi 7, Bluetooth 5.3, NFC |
| Battery | 4,300mAh |
| Connector | USB-C 2 |
| Operating System | Android 13 |
| Dimensions | 68 x 9.4 x 147mm (WxDxH) |
| Weight | 172g |
| Warranty | 2-year warranty |
The Zenfone 10 boasts a distinctive design, resulting in a tall 9:20 aspect ratio for the screen, offering a native resolution of 1,080 x 2,400. While the AMOLED display might not be the brightest in its class, reaching a peak of 764cd/m2, its color accuracy remains impressive. The adoption of a 120Hz refresh rate, which elevates to 144Hz in compatible games, ensures a seamless and fluid user experience.
Asus has ensured a robust interior as well. Utilizing the Snapdragon 8 Gen 2 chipset shared with the Galaxy S23, the Zenfone 10 achieves a commendable match to Samsung's impressive benchmark scores. During our 4G web-browsing test, the Zenfone's 4,300mAh battery and more compact screen led to a duration over two hours longer than the S23 and more than five hours longer than the Pixel 7 .
A minor concern is the relatively gradual recharging process. At its maximum of 30W, the phone's charge barely surpassed 50% after a 30-minute charge. On a positive note, the package includes a charger, and you can also utilize a 15W wireless charger for charging the Zenfone 10.
The Zenfone 10's software exudes a stock Android essence, supplemented by a selection of distinctive Asus customizations. The power menu, volume controls, lock screen, and quick settings present expanded options beyond typical Android. Further shortcuts are accessible through swiping on the fingerprint-reading power button. I find this feature particularly useful for opening and closing the notification shade, or alternatively for scrolling through web pages or navigating YouTube videos.
Another ingenious attribute is the QuickShot shortcut: a double press of the power button swiftly opens the camera and captures a burst of shots, enhancing your chances of capturing the perfect moment. The Edge Tool provides swift access to apps and shortcuts via a screen-edge swipe. It's important to note that Asus guarantees 24 months of OS upgrades, followed by two more years of security updates, which pales in comparison to Samsung's four years of comprehensive updates or Google's three-year policy.
A significant compromise lies within the camera hardware. While not subpar, it lacks some of the features seen in competing models. The 50MP primary camera pairs with a 13MP ultrawide camera, and a high-resolution 32MP front camera. Notably, the absence of a telephoto lens like the Galaxy S23 and the AI-driven processing akin to the Pixel 7 marks a shortfall.
Testing revealed that the Zenfone produces bold images with notable contrast, yet the results lack the brightness and vibrancy seen in shots from the Samsung Galaxy S23. The all-digital zoom tends to yield soft photos, and while selfies generally appear warm and detailed, the Portrait mode struggles to consistently separate subjects from their backgrounds. A standout feature, however, is the six-axis hybrid gimbal system for optical stabilization, effectively minimizing instability while recording video in motion.
While the Zenfone 10 may not completely match the photographic capabilities of the Galaxy S23, it stands out as an intelligently designed phone that offers a gratifying user experience. Abundant processing power caters to all tasks, and the substantial battery ensures uninterrupted usage throughout the day. For those seeking an Android phone with a sub-6-inch display, the Zenfone 10 presents a compelling option.