Reviews
Asus Zenbook 15 OLED (2023)
Asus Zenbook 15 OLED
The Asus Zenbook 15 OLED (UM3504) emerges as a robust laptop suitable for various tasks, including office work, photo editing, media consumption, and even light gaming. Although it lacks a dedicated GPU, the presence of a USB4 port provides the option to connect an external GPU for additional graphics processing power when needed. Asus proudly asserts that the 15-inch OLED display covers the full sRGB and DCI-P3 color gamuts, making it an appealing choice for aspiring content creators looking to embark on creative endeavors.
Specifications
| | |
| --- | --- |
| Display | 15.6-inch 16:9 2.8K (2880×1620) 120Hz OLED/15.6-inch 16:9 Full HD (1920×1080) IPS LCD |
| Processor | AMD Ryzen 5 7535U 2.9GHz (6-core/12-thread, 12MB cache, up to 4.55 GHz max boost)/ Ryzen 7 7735U 2.7GHz (8-core/16-thread, 16MB cache, up to 4.75 GHz max boost) processor |
| Graphics | AMD Radeon graphics |
| Memory | 16GB, 32GB LPDDR5 6400 MHz |
| Storage | 512GB, 1TB SSD PCIe 4.0 x4 |
| Ports | 2×Type-C USB with USB4, USB 3.2 (Gen 1), 1×Type-A USB 3.2 (Gen 1), HDMI 2.1, 3.5mm audio jack |
| Camera | 1080p webcam |
| Wireless | Wi-Fi 6E, Bluetooth 5.2 |
| Battery | 67Whr |
| Operating System | Windows 11 Home |
| Dimensions | 354.8×226.6 x 14.9 mm |
| Weight | 1.4kg |
When it comes to pricing, the Zenbook 15 OLED falls somewhere between budget and high-end options, without reaching exorbitant levels. However, how does it fare against its competitors in the market?
DESIGN & BUILD
When you first lay your hands on the Zenbook 15 OLED, its slim and sleek appearance immediately catches your attention. It boasts a slender profile, thin bezels around the display, and slim keycaps on the keyboard.
Despite being a 15-inch laptop, the Zenbook 15 OLED surprises with its lightweight design, weighing in at just 3.1 pounds. While there are even lighter ultrabooks available—such as various Microsoft Surface Laptop 5 models at approximately 2.86 pounds—the Zenbook 15 OLED doesn't burden you during your daily commutes or meetings. It maintains a robust build, displaying minimal chassis flex. However, there's a minor issue with screen wobbling when tilting, which somewhat detracts from its overall premium aesthetics.
This particular shade of dark blue sets the Zenbook apart from the sea of typical black and silver laptop designs, offering a refreshing change. It follows the design direction introduced in the previous year's Zenbook 14 (UX3402), featuring the Asus "A" logo etched on the back. Although the 180-degree hinge is slightly elevated, it doesn't lift the display as prominently from the desk surface compared to earlier models.
PORTS & CONNECTIVITY
Despite its remarkably slim profile, Asus has managed to incorporate a generous selection of ports into the Zenbook 15 OLED. You'll find an old-school Type-A USB 3.2 port, alongside two Type-C USBs—one USB 3.2 and the other USB4, plus an HDMI 2.1 port. Although there's no dedicated port for the power adapter, both Type-C USBs support power delivery. This means you can conveniently charge your laptop through either of them. If you require additional storage or connectivity options, there are plenty of compatible docks, hubs, and cables available to utilize the USB4 port effectively.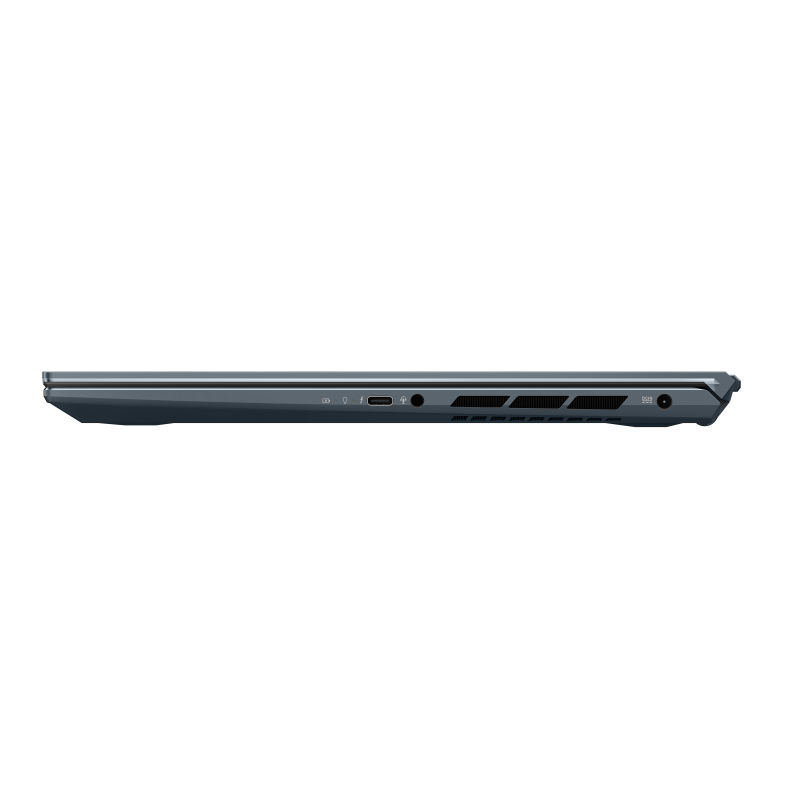 It's worth noting that neither of the USB-C ports supports Thunderbolt 4, which is essential information if you plan to connect to Thunderbolt monitors or external GPUs. On the positive side, the USB4 port can, with the addition of an Ethernet adapter, provide support for wired internet connections. For times when you're far from a wired access point, the Zenbook 15 OLED comes equipped with a Wi-Fi 6E module, ensuring you can take advantage of some of the fastest Wi-Fi speeds currently available.
The inclusion of an HDMI 2.1 port in this year's Zenbook 15 OLED is a notable improvement over last year's Zenbook 14, which featured an HDMI 2.0b port. With HDMI 2.1, you have the capability to connect to a monitor and enjoy the benefits of playing 4K video at 120 frames per second or 8K video at 60 frames per second. This enhancement opens up new possibilities for high-quality video playback and gaming experiences.
KEYBOARD & TRACKPAD
The typing experience on the Zenbook 15 OLED is quite impressive. The letter keys provide a satisfying springy feedback and offer a travel distance of just under 2mm. This key travel feels surprisingly deep for a laptop of this size, contributing to a comfortable typing experience.
However, there is a slight inconsistency with the number keys, which require a bit more force to press compared to the letter keys. Additionally, the keycaps themselves feel somewhat thin, raising concerns about their long-term durability.
The presence of a number pad is a matter of personal preference. Some users may appreciate it, but others, particularly those with larger hands, might find it cramped. The function keys at the top are quite small, occasionally leading to accidental volume adjustments instead of screen brightness control. Another minor gripe is the mapping of navigation keys (home, page up, page down, end) onto the arrow keys, necessitating the use of the Fn key for these commands. However, this design quirk is not unique to the Zenbook.
On the positive side, the trackpad is a good size, measuring 5.8 inches, and is highly responsive. It enables smooth navigation through menus and supports precise gestures. Unlike some previous Asus models, the Zenbook 15 OLED does not feature the ScreenPad, a secondary display embedded within the trackpad, opting for a traditional trackpad design instead.
DISPLAY & SPEAKERS
There are two display versions of the Asus Zenbook 15 available this year, one with an OLED screen and another with the more common IPS LCD panel. The model under consideration is the OLED version, featuring a resolution of 2880×1620. Asus refers to this unique resolution as 2.8K, although it may appear as 3K in other listings.
The specifications promise a peak brightness of 550 nits, complete coverage of the standard RGB (sRGB) color space, as well as the DCI-P3 color space. Paired with the OLED display's rich contrast, this results in an excellent visual experience across websites, photos, games, and video content. However, when tested with a colorimeter, the recorded maximum brightness falls short of Asus' claims, reaching only 376 nits. While sufficient for most lighting conditions, it doesn't match the promised peak brightness.
An OLED screen, by nature, offers true black levels since black areas consist of unlit pixels. The recorded color temperatures closely align with the 6500 Kelvin mark, simulating natural daylight. At 25% and 50% brightness, the color temperature measured 6600K, while at 75% and 100% brightness, it was 6500K.
In terms of DCI-P3 coverage, the screen achieved 99%, slightly below the advertised value but still highly commendable. This level of coverage ensures that colors in websites and games appear vibrant, rich, and full of detail.
While laptop speakers are generally not known for their exceptional quality, the two Harman Kardon-certified speakers on this device are decent. They provide satisfactory bass and treble, and there's good audio separation, particularly noticeable in complex songs like Radiohead's "The National Anthem," which features multiple layers of sound. It's worth noting that both speakers are downward-firing, which means your desktop may absorb a significant portion of the sound.
SPECS & PERFORMANCE
The Asus Zenbook 15 OLED models offer a choice between the AMD Ryzen 5 7535U or AMD Ryzen 7 7735U processors, 16GB or 32GB of RAM, and 512GB or 1TB of storage. The unit provided for testing was equipped with the more powerful Ryzen 7 7735U processor, 16GB of RAM (with 15.2GB usable), and a 512GB SSD (with 475GB usable storage).
As anticipated, for everyday computing tasks such as writing, emailing, and web browsing, the Zenbook 15 OLED performed exceptionally well. It handled tasks like opening 500MB worth of photos in the image editing tool GIMP in just over two minutes (2:15), demonstrating impressive speed. Routine activities like sending emails to colleagues and browsing the web felt remarkably smooth and efficient.
While the Zenbook 15 OLED is not designed as a gaming laptop, it pleasantly surprised by running an entire game of Civ 6 (albeit on the lowest settings) without encountering any slowdowns or crashes. This performance is noteworthy for a laptop that lacks dedicated graphics. However, it's important to note that Civ 6 is not a recent game, so expectations should be tempered when it comes to playing more graphically demanding titles with high-quality settings.