Asus RT-AXE7800 – Routers that incorporate the most up-to-date Wi-Fi standards and boast cutting-edge features often come with a hefty price tag. However, as time passes, the cost tends to decrease as manufacturers discover ways to maintain high-speed performance while cutting back on luxurious extras. This is precisely what has transpired with the RT-AXE7800, a router that delivers all the Wi-Fi 6E capabilities found in Asus's premium ROG AXE11000 model, but at a more budget-friendly price point. In fact, it only costs slightly more than the Synology WRX560, and it has now taken the top spot as our preferred choice for individuals seeking to future-proof their upcoming Wi-Fi upgrade.
| Specification | Details |
| --- | --- |
| Dual-band Wi-Fi | Yes |
| Supports Wi-Fi speeds up to | 7,800Mbps (6GHz network) |
| 1x 2.5 Gigabit Ethernet port | Yes |
| 4x Gigabit Ethernet ports | Yes |
| 1x USB 3.0 port | Yes |
| Dimensions (HxDxW) | 114x262x264mm |
| Weight | 880g |
| Warranty | One-year |
The RT-AXE7800 certainly makes a striking first impression right out of the box. Its unique hexagonal design and a ring of external antennas that need to be unfolded immediately catch your eye. Once it's standing upright, those six antennas deliver robust signals for your home network.
Located at the rear of the router, you'll find five Ethernet ports. Two of these ports can serve as either WAN (Wide Area Network) ports for your internet connection or LAN (Local Area Network) ports for connecting other devices. One of these ports supports high-speed internet connections of up to 2.5Gbps, while the second provides the more standard Gigabit Ethernet speed. There's also a USB 3.0 port, which you can utilize to connect an external hard drive or NAS drive for sharing data across your network.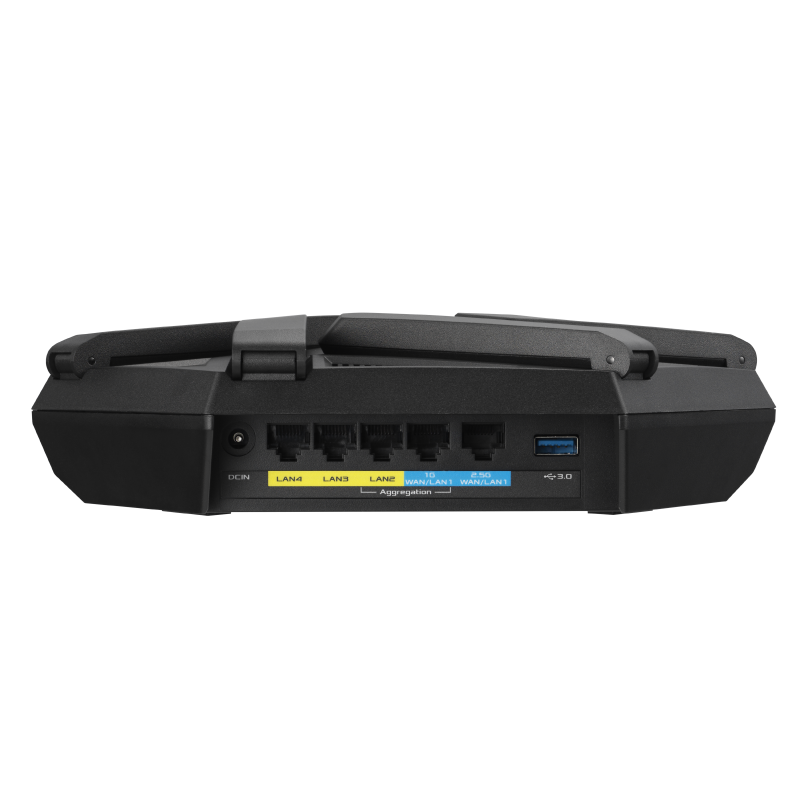 Setting up the router using the Asus Router app for iOS or Android is a relatively straightforward process. When you initially plug it in, the RT-AXE7800 creates a default network that you can easily join by scanning the QR code printed on the base of the unit. From there, you can set up password protection and customize your network configurations.
The app does a great job of keeping the Wi-Fi 6E-exclusive 6.0GHz frequency separate at all times. This gives you two setup options: you can create three distinct networks on the 2.4GHz, 5GHz, and 6GHz bands, each with its own name and password, or you can have two networks, combining the 2.4 and 5GHz bands while keeping the 6GHz band separate.
The app offers several other valuable features as well. You can monitor your network's traffic in real-time, and there's a Quality of Service option that allows you to prioritize specific activities, like streaming video.
Moreover, the app provides useful parental controls, including the ability to establish a schedule for children's internet access and implement content filters to block inappropriate material. Importantly, unlike many of its competitors, these parental controls don't require an additional subscription fee.
As you'd expect from a Wi-Fi 6E router, it delivers impressive performance. Devices located in the same room as our old Wi-Fi 5 router can now achieve speeds of 150Mbps and 19MB/s for Steam downloads. These speeds align with the optimal rates our current broadband setup can provide. When we connected the RT-AXE7800 to our old router in the same room, it didn't noticeably improve performance for devices in that area.
However, we encountered a significant improvement in an area where our old router's Wi-Fi signal couldn't reach – our office at the back of the building. Previously, we had to rely on a set of Powerline adapters and a wired connection to access the internet. With the RT-AXE7800 in place, it made a substantial difference by extending high-speed Wi-Fi coverage into our back office. Remarkably, it maintained our top speeds of 100Mbps and 19MB/s without any issues at all.