Asus ROG Zephyrus Duo 16– As you may have noticed from its name, this year's major enhancement lies in the screen department. The device boasts a remarkable 240Hz mini-LED display, delivering an immersive visual experience. In addition to the screen upgrade, Asus has equipped the laptop with the latest hardware from AMD and Nvidia. The powerhouse combination includes the Ryzen 9 7945HX CPU and the GeForce RTX 4090 graphics card. With such impressive specifications, one might wonder if this is the long-awaited gaming laptop with dual screens that you've been eagerly anticipating.

Upon first glance, the Zephyrus Duo appears to be a regular, albeit bulky, laptop. Asus has made the interesting choice of ditching RGB lighting in favor of purple and pink holographic coloring on the black aluminum lid and magnesium alloy body.
From an engineering perspective, the Zephyrus is a marvel. It smoothly opens in a single motion, elevating the secondary ScreenPad Plus from a flat position to a 13° angle. This design choice reduces the gap between the two displays and allows for improved airflow through the intake fans.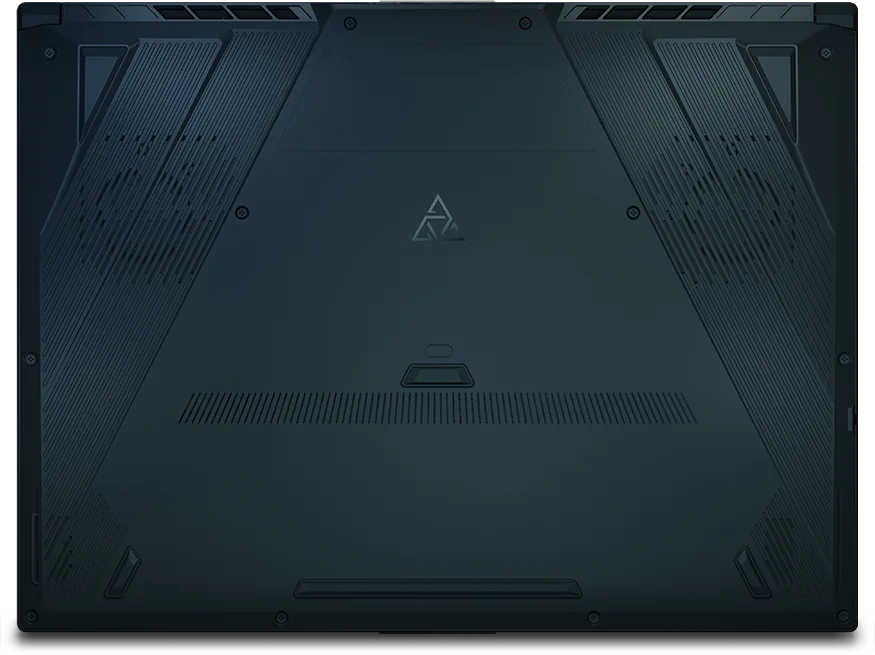 The two screens seamlessly blend together, even though the top display has a matte finish while the touchscreen is glossy. There are a few peculiarities to get accustomed to. For example, the brightness keys on the keyboard only adjust the main display and not the ScreenPad Plus. Instead, ScreenXpert, a touch-based software located on the side of the bottom screen, takes care of that. It also facilitates window switching between the two screens, application minimization, and quick app selection.
For those who may dismiss the additional screen as a gimmick, it proves to be quite valuable. In my day-to-day work, I found it to be a convenient place to keep Spotify and Slack readily accessible, and during gaming sessions, I could do the same with Discord. Video and audio editors may also appreciate having the timeline conveniently placed on the secondary screen.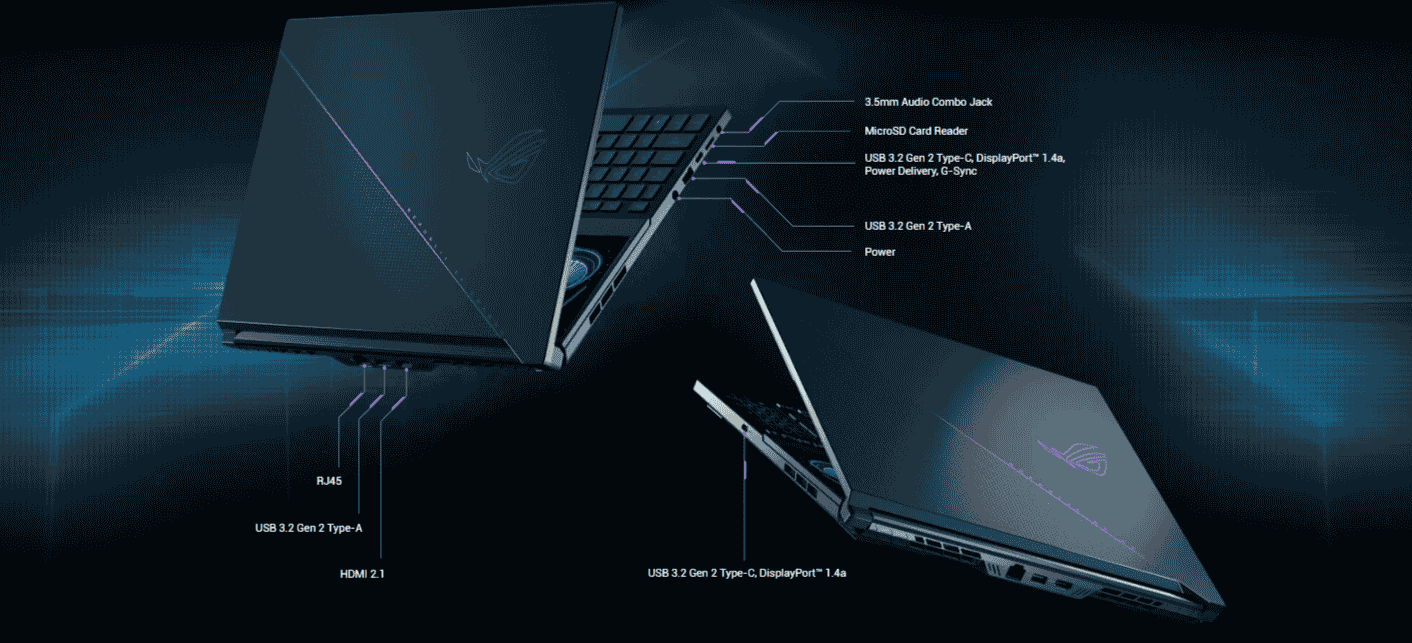 The primary mini-LED screen is stunning, whether you're watching movies or playing games. The richer the colors in the content, the more impressive they appear. An example of this is the game Control, which is filled with vivid reds (blood, rugs, filters), all of which were reproduced with a level of richness that inferior screens simply can't match. The excellent contrast between bright whites and deep blacks further enhances the game's atmospheric lighting effects.
Specifications
Processor
16-core 2.5GHz (5.4GHz boost) AMD Ryzen 9 7945HX
Graphics
16GB Nvidia GeForce RTX 4090 (175W max)
RAM
64GB DDR5-4800
Display
16in 240Hz mini-LED, 2,560 x 1,600 resolution (primary)
14in IPS touchscreen, 3,840 x 1,100 resolution (secondary)
Storage
2TB M.2 PCI-E Gen4 SSD
Connectivity
Wi-Fi 6E, Bluetooth 5.2, 2 x USB-C 3.2 Gen 2, 2 x USB-A 3.2 Gen 2, HDMI 2.1, 2.5GbE Ethernet, 3.5mm combo jack
Webcam
1080p webcam
Battery
90Wh
Operating System
Windows 11 Home
Dimensions
355 x 266 x 20.5-29.7mm (WDH)
Weight
2.7kg
Warranty
1yr limited warranty
Part Code
GX650PY-NM001W
While the main display covers 86% of the DCI-P3 color gamut, which may not be the highest among mini-LED screens, the Duo takes the crown in terms of brightness, peaking at an incredible 684cd/m². Additionally, it boasts Dolby Vision and DisplayHDR 1000 certification, with the latter indicating the ability to reach a peak brightness of 1,000cd/m² in localized areas.
On the other hand, the 14.1-inch IPS ScreenPad falls short in comparison, reaching a maximum brightness of 351cd/m² and covering 80% of the DCI-P3 color gamut. Nevertheless, it remains a high-quality screen.
With the 2023 update, there is one thing that remains unchanged: the keyboard has been shifted down to the bottom of the device's chassis. It is accompanied by a narrow touchpad on its right side. While this placement may be convenient for those who use an external mouse, it takes some time to adjust to a laptop trackpad in that position. Left-handed users, in particular, may find this arrangement less than satisfactory.
The keyboard, offering a 1.7mm travel distance, feels rigid to my liking. However, I was able to maintain my usual touch-typing speed on monkeytype.com. Asus includes a rubberized wrist rest in the package, which proves helpful when using the device on a desk.
One potential usability concern arises from the placement of ports. On the left-hand side, several ports are cramped next to the keyboard, including the power input, 3.5mm jack, micro SD card reader (UHS-II), USB-C, and USB-A ports. On the right side, there is only a single USB-C port, while the back features an Ethernet jack, HDMI 2.1, and another USB-A port. All USB ports are USB 3.2 Gen 2, providing a transfer speed of 10Gbits/sec.
Weighing 2.7kg and reaching a peak height of 29.7mm, the Duo can fit into a bag, but its battery life during travel is not impressive. With both screens on at a brightness level of 150cd/m2, the Duo lasted only 3 hours and 23 minutes in our light-use battery test. However, when the ScreenPad is switched off, the battery life extended to 4 hours and 7 minutes.
Nevertheless, the most important factor for prospective buyers remains gaming performance. Equipped with an RTX 4090, this laptop ensures a consistently smooth gaming experience. However, during initial testing, it fell slightly behind other laptops with the same graphics card. One contributing factor is that the Duo's RTX 4090 operates at a lower clock speed compared to its competitors, and it is also responsible for powering the secondary screen. Nevertheless, when the Ultimate GPU mode is enabled, the laptop's performance improves.

In Shadow of the Tomb Raider, running at Ultra settings, the Duo achieved frame rates of 151fps at 1080p and 96fps at 1600p (abbreviated as 1600p here). In comparison, the Asus ROG Strix Scar 18 reached 181fps at 1080p and 124fps at 1600p. Similarly, in Grand Theft Auto V at Very High settings, the Zephyrus Duo achieved 158fps at 1080p and 100fps at 1600p. Once again, the Strix outperformed with frame rates of 181fps and 124fps, respectively. Enabling the Ultimate GPU mode, the Duo matched its larger sibling at 1080p with 181fps, and its performance of 118fps at 1600p was also commendable.
The Duo demonstrated its capability to compete with larger laptops in Far Cry 6. At Ultra settings, it achieved frame rates of 98fps at 1080p and 90fps at 1600p. This is only a slight difference of 9fps at 1080p and 4fps at 1600p compared to the Strix Scar 18. Once again, enabling high power settings further improved the Duo's performance, with the standout being 97fps at 1600p.
When you're not immersed in gaming, the AMD Ryzen 9 7945HX, paired with 32GB of DDR5-4800 RAM and a 2TB PCI-E Gen4 SSD, provides exceptional speed for your work tasks. According to Geekbench 5, the Zephyrus Duo 16 achieved a single-core score of 2,117 and a multicore score of 19,446. In comparison, the ROG Strix Scar 18 with its Core i9-13980HX trailed behind with a single-core score 51 points lower and a multicore score 213 points slower.
These two laptops were closely matched in various aspects. In our Handbrake test, where a 4K video is transcoded to 1080p, the Zephyrus Duo 16 completed the task in 2 minutes and 50 seconds, just one second behind the Scar 18. However, the Duo outperformed the Scar 18 in our 25GB file-transfer test, achieving a transfer rate of 1,947MB/sec compared to the Scar 18's 1,886MB/sec. Both results are impressive.
Similar to its sibling, the Zephyrus Duo 16 allows you to add a second M.2 SSD. With the removal of 13 Torx screws, you can easily access the RAM, SSD, and Wi-Fi card. Although the battery can be replaced, Asus discourages disassembly, as indicated by a capitalized sticker on the top-right corner of the 90Wh battery that reads "Do not disassemble."
The remaining components of the Duo 16's setup demonstrate impressive quality. Asus has equipped it with a six-speaker system consisting of two tweeters and four woofers, capable of filling a room with sound without reaching its maximum volume. The drums produce a snappy sound, although some vocals may sound more hollow than expected. However, if you want to drown out the noise from the Duo's fans during gaming sessions, you'll need to turn up the volume significantly.
It's always a pleasure to find a gaming laptop with a 1080p webcam, and it's even better when the webcam delivers excellent detail and accurate colors. Moreover, the webcam incorporates IR sensors to support Windows Hello.
For individuals who require more screen space but prefer not to deal with an external monitor, the Duo 16 is an ideal choice. Although it comes with a high price tag, it boasts premium components, a stunning display, and powerful speakers.
However, I do wish that Asus could find a way to make the keyboard and touchpad feel more natural. While the inclusion of a wrist rest is practical, frequent typists may find themselves purchasing an external keyboard and mouse.
Two-screen laptops still occupy a niche market. Nevertheless, with the enhancements made to Asus' ScreenPad Plus software and the top-notch primary display, those seeking additional pixels have a straightforward decision to make.