Reviews
AOC Gaming 27G2SPU Monitor  21inch
A little more expensive but with lots of upgrades. Although it doesn't appear very fancy, its generally compact shape and narrow, low profile edges make up for this. Despite the flashes of light on your desk, it doesn't take over. There is a little of metallic red on the stand and bottom bezel. cheesy. The V-shaped base of it extends forward and is wider than necessary as well. However, the stand offers movements for height, pivot, rotation, and tilt, making it simple to configure the display as you see fit.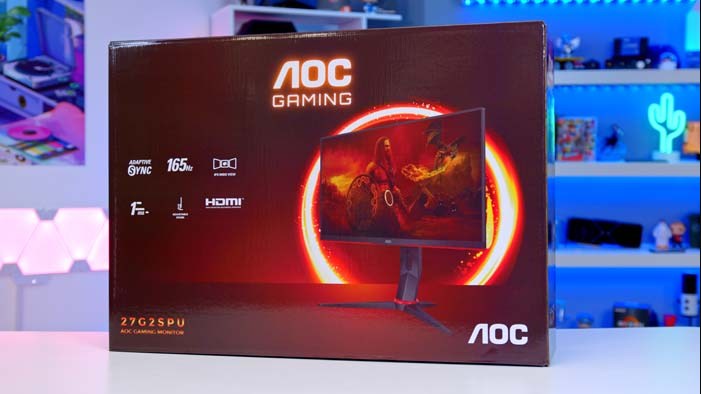 27G2SPU's Specification
Screensize
27in
Resolution
1,920×1,080
Panel technology
IPS
Maximum refresh rate
165Hz
Stated response time
4ms GTG
Max brightness
250cd/m²SDR and HDR
Backlight zones
1
Stated contrast ratio
1,000:1
Adaptive sync
Free Sync and G-Sync compatible
Display inputs
1x Display Port 1.4,2xHDMI2,VGA
Audio
2x2W speakers,headphoneout
Stand adjustment
Height,pivot,rotation,tilt
Extras
100x100mmVESAmount,4-port
USB3hub,MBRblurreductionmode
Although there is no USB Type-C video input, there is still an additional input available in the form of an AD-SUBVGA connector. You also receive a Display Port input, two HDMI ports, a 4-port USB 3.0 hub, a headphone jack, and a set of modest 2W speakers in addition to that marvel of contemporary technology.
However, there is room for improvement in the menu system. Not only is it simple to unintentionally push the power button, but the buttons are small and challenging to press, and the menu system isn't intuitive. It employs a row of buttons on the underside of the panel's edge, where they sit next to a power button that feels identical.
Thankfully, despite the difficult menu navigation, the choices are top-notch. There are extensive, clearly labelled color-tweaking controls, a proper brightness-adjustable sRGB mode for remaining in the panel's otherwise extended colour gamut (124 percent sRGB), and all the gaming options you could reasonably expect at this price.
The visual quality on this screen is also remarkable in every other way. Its out-of-the-box colour temperature (6,474K) and gamma (2.21) are almost flawless, and its contrast ratio of 1276:1 is exceptionally good for an IPS panel. registered a maximum brightness of 354cd/m2, well beyond the 250cd/m2 that it was rated at.
Viewing angles are also quite good thanks to the IPS panel. Overall, you don't need to adjust anything on this panel other than the brightness adjustment unless you're utilising the sRGB mode, which likewise produces flawless image quality. As its initial reaction time ranges between 13.2ms with no overdrive and 8.9ms at full overdrive, this 165Hz screen's gaming performance is less enticing on paper than certain other IPS panels that are available. In actual use, this display feels just quick enough for precise aim tracking. Additionally, its blur reduction setting tightens it up even more, improving the clarity of rapid movement.